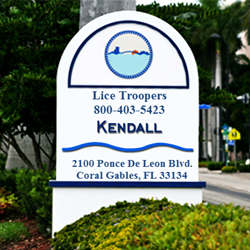 Kendall Lice Removal and Lice Treatment Service
Miami, FL (PRWEB) December 30, 2014
Kendall gets ready to welcome the premier, all-natural lice removal service. Lice Troopers is now expanding, with a new salon clinic location scheduled to open January, 2015. Located at 2100 Ponce De Leon Blvd, Coral Gables, FL 33146, the clinic will provide a convenient location for families in Kendall and Coral Gables, as well as Sunset, Brickell, Coconut Grove, Pinecrest and South Miami.
The company will continue to provide screening and treatment services by house call—a favorite among busy parents—and at their original location in Bay Harbor Islands (1005 Kane Concourse, Suite 212, Bay Harbor Islands, FL 33154). But with increased demand for a lice removal option that is chemical-free, all-natural, safe for children of all ages and environmentally friendly, a second clinic was a necessity.
According to Arie Harel, owner and operator of Lice Troopers, the company will continue to expand not only in the Florida area but nationwide. "We've had nothing but success with Lice Troopers and the skilled lice removal services we provide. Our family has been in the business for over twenty-five years, and we look forward to bringing this service to as many areas as possible so that families have the natural lice removal options they can trust and feel good about."
To promote their Grand Opening and to begin getting to know the community, Lice Troopers will be offering free head lice screenings at the new Coral Gables treatment center. Families can receive free screenings January 4-7, every day from 10:00am to 2:00pm, on a first come, first served basis.
Lice Troopers is the all-natural, guaranteed Head Lice Removal Service™ that manually removes the head louse parasite safely and discreetly in two child-friendly salon settings, or other chosen location. Providing safe solutions for frantic families, the Lice Troopers team has successfully treated thousands of families nationwide, with services widely recommended by pediatricians and reimbursed by many major health insurance carriers, flexible spending accounts and health savings accounts.
For more information, contact:
Jennie Harel, President
licetroopers(at)gmail(dot)com
800.403.5423