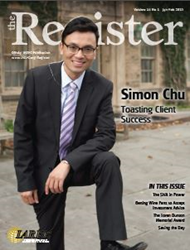 Someone who communicates well and truly cares for the well-being of others is someone who will go very far in life....Simon Chu, RFC
Middletown, OH (PRWEB) December 29, 2014
As a young man born in China, Simon Chu took advantage of such opportunities by going to school in the United States. Encouraged by his parents, he survived the bumpy road of moving to a new country at a young age and learning a new language at the same time. "It led me to where I am today," comments Chu of his experiences. "I could not be happier."
Even as a graduate starting out, Simon viewed working mainly in the senior market as a challenge. He was helping his parents decide what to do with their money when he realized that the retirement sector is not only relevant to all but is constantly changing – making it a complex worry for many. After researching their situation, Simon realized it was a market niche where he could really make a difference and that he was good at it.
To that end, Cornerstone Financial Strategies has increased the amount of specialized education seminars they sponsor providing information on hot topics like Social Security and long-term care. They try to build a strong relationship with current clients, which in turn creates referral business beneficial to the life of the company. "Our educational system is lacking teaching an important topic for peoples' lives – which is personal finance," says Chu. "I make it a point to set aside time each week to help people learn about their financial options."
Simon believes that there are three basic concepts of financial management: (1) To live below your financial means as the amount of consumer debt in society is frightening, (2) Be aware of Social Security and how it works and know the right time to start collecting to avoid high taxes while getting the highest benefit, and (3) Plan ahead for the worst case scenarios – whether it is financially or healthcare related.
Since his offices are located on the Eastern Shore, dealing with the aftermath of Hurricane Sandy two years ago was one of the worst natural disasters that his firm had ever experienced. It taught how truly important it is to be prepared for unforeseen circumstances – the most important being from a financial perspective that next time it may not be a hurricane that creates a financial crisis. It is just as easy to fall victim to a personal disaster such as illness, incapacity or poor planning. "I want to make sure that my clients are covered in any of those circumstances," stated Chu. "We want to always be able to help our clients in the worst of times."
The entire interview with Simon Chu can be found at http://www.iarfc.org.