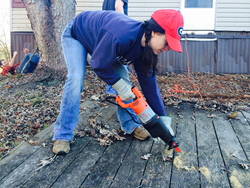 We have a social responsibility to help our community when we can. -- Melissa Allen, GetUWired VP of Operations
(PRWEB) December 30, 2014
On Dec. 11, 2014, the GetUWired team helped out three needy families through Habitat for Humanity of Lumpkin County. Each quarter, GetUWired employees gather for a team-building event. This 4th quarter team-building event was intended to give back to the community, and Habitat for Humanity provided a great opportunity to help people in GetUWired's area. Pictures of the event can be seen here.
GetUWired's Mountain Roots
"Our roots are here in Dahlonega," said Melissa Allen, GetUWired vice president of operations. "We have a social responsibility to help our community when we can. We gave back when we had 18 people last year, are giving back with 35 people this year, and will give back when we get to a thousand people. We won't ever forget how we got here and the community that embraced us so that we could grow a tech company in the mountains."
Starting the Day at Home Depot
The team started the day by meeting at Home Depot to pick up supplies and meet with Habitat for Humanity employees. After that, the group split into three teams that dispersed to three different job sites.
Team 1 - Wheelchair ramp
Project manager Eric Browning headed up team one, which was charged with building a wheelchair ramp. Eric's team included copywriter Ella Wilson, CEO Lee Goff, front office manager-in-training Lew Bailey, marketing automation specialist James Wall, engineers Ben Redden and Ryan Holt, and senior designer Astin Joeckel.
Team 2 - Trailer Remodel
Team two was headed by project manager Corey Gunter. His team, which included office manager Christian Mimms-Wolfe, junior designer Greg Loebick, engineer Thomas Pirkle, project manager John Crocker, designer Karla Colby, project manager Kendra Corley, engineer Brandon Rumiser, and project manager Chris Johnessee, was tasked with updating a trailer so a deserving family could move in. The team demolished front and back porches, removed some old wood flooring, and installed drywall, baseboards, chair railing and ceiling trim.
Team 3 - Remodel Completion
Senior project manager Justin Pugh lead the team that completed a remodel that had been left half-finished. His team included marketing automation specialist Laura Burruss, Vice President of Operations Melissa Allen, SEO specialist Johnathon VandenHeuvel, and engineers Jon McBrayer, Heather Grizzard, Edwin Chui, Ian Mackenzie, and Jordan Quattlebaum. The team repaired a wall, hung tar paper, installed sheetrock, changed door knobs and locks, and built steps.
For more information on how to volunteer or donate to Habitat for Humanity of Lumpkin County, email Bob Pullen at pullen623(at)windstream(dot)net.
About GetUWired
GetUWired is a full-service Internet marketing firm located in scenic Dahlonega, Ga. Its wide range of specialties includes Infusionsoft, automated marketing, website design, SEO, CPC, API integrations and much more. For more information about GetUWired, visit http://www.GetUWired.us or give us a call at 877-236-9094.