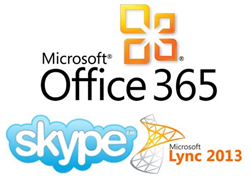 Skype for Business will again transform the way people communicate by giving organizations reach to hundreds of millions of Skype users outside the walls of their business
Hoboken, New Jersey (PRWEB) December 30, 2014
eMazzanti Technologies, a NYC area IT consultant and managed services provider (MSP), relates to Microsoft Office 365 users the great news about the video conferencing capabilities included with Office 365 for Business, in a new article.
"We believe that Skype for Business will again transform the way people communicate by giving organizations reach to hundreds of millions of Skype users outside the walls of their business," said BJ Haberkorn, Director of Product Marketing for the Lync Team.
Many businesses using or considering the Microsoft Office 365 productivity suite are unaware of Lync, an integrated, full-featured video conferencing and messaging application included with the popular service at no additional cost.
The good news about Lync also includes this exciting recent development: As of December 5, 2014, Lync video conferencing works with Skype users as well. The news gets even better with the announcement earlier this month that Lync will become Skype for Business in 2015.
Skype for Business
Microsoft began the process of integrating Lync with Skype back in 2011 when they bought Skype. The first release of Lync 2013 introduced Lync/Skype compatibility for voice and IM but not video conferencing.
Recently, Microsoft announced the next step in the integration process. As of December 5, 2014, Lync and Skype users can join one another in shared video conferences.
The final step will occur in the first half of 2015 when Lync becomes Skype for Business, with a new client experience, new server release, and updates to the service in Office 365.
Below are a few excerpts from the article "Skype Video Conferencing now Included with Office 365 for Business." Read the full article here.
"One of the best tools in the Office 365 suite is Microsoft Lync. Yet, many Office 365 customers are unaware of its capabilities. Lync is Microsoft's powerful instant messaging and videoconferencing product. It comes as part of the package with Office 365 Business Essentials, as well as Office 365 Business Premium. You can get either for a small monthly per-user fee…"
"Industry experts recognized Lync's value from the beginning when it was added to Office 365 a few years ago. 'Lync is an intriguing addition to the suite. In a time when more small businesses are virtual, on the road, or otherwise physically separated from each other, a slick and integrated real-time communications tool is a must,' noted aPCWorld.com article dated 6/28/11."
"Businesses looking to implement Office 365 with Lync can rely on eMazzanti Technology's Microsoft-trained technicians for expert assistance. eMazzanti offers fast and secure migration to Office 365 with minimal impact on internal users and customers. Migration services help subscribers easily transfer all contacts, calendars and e-mails to Office 365 Exchange Online, enter all credentials and activate all accounts within the organization. Training on Lync/Skype video conferencing helps users get the most from their Office 365 collaboration tools."
Office 365/Lync training sessions are scheduled for the last week of January, 2015. Interested parties may register for the training or schedule a private session for their company by contacting marketing(AT)emazzanti.net or call 201-360-4400.
Related resource information:
7 Small Business Technology Trends for 2015
Office 365: A More Cost-Effective Option for Business
About eMazzanti Technologies
eMazzanti's team of trained, certified IT experts rapidly deliver cloud and mobile solutions, multi-site implementations, 24×7 outsourced network management, remote monitoring and support to increase productivity, data security and revenue growth for clients ranging from professional services firms to high-end global retailers.
Serving more than 400 Hoboken, NJ, NYC area and international customers, eMazzanti is Microsoft's 2012 Partner of the Year and 2013 Northeast Region Partner of the Year, a 5X WatchGuard Partner of the Year and has made the Inc. 5000 list five years running. Contact: Carl Mazzanti 201-360-4400 or emazzanti.net Twitter: @emazzanti Facebook: Facebook.com/emazzantitechnologies.
Download the free article: How to Select an IT Provider here.