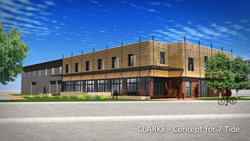 We dedicated two years to intensive strategic business planning that guided us to develop an urban location, and another 18 months to find the right building in Boston.
Milford, MA (PRWEB) October 28, 2014
Clarke, New England's Official Sub-Zero & Wolf Showroom and Test Kitchen, has announced its first downtown Boston location, slated for opening in May 2015. To develop what's being called the "showroom of the future" and "Clarke 3.0," the award-winning distributor has purchased a 38,000-square-foot building located at 7 Tide Street in Boston's Seaport Innovation District.
"We are very excited about this project," said Clarke General Manager Sean Clarke, who has worked with his father, company founder and CEO Tom Clarke, to identify the right property for their third New England location, which will be the 35th Sub-Zero and Wolf Showroom in the country. "We dedicated two years to intensive strategic business planning that guided us to develop an urban location, and another 18 months to finding the right building in Boston."
Clarke has had a Sub-Zero & Wolf Showroom and Test Kitchen off Route 495 in Milford, Massachusetts, and another in South Norwalk, Connecticut, since 2002. As a company known for forging unique trade partnerships, Clarke has invited A.W. Hastings, New England's exclusive distributor for Marvin Windows and Doors, to become part of the Boston showroom project.
"Windows are an integral part of almost every kitchen design project," said Sean Clarke. "When we saw the incredible synergy between our two distribution companies, including the customers we serve and the philosophy that guides us, we knew this would be a win-win for everyone. Through dynamic full-size kitchens and unique room spaces, visitors will see how our products work seamlessly together. And, for Boston architects and designers, this provides an efficient opportunity to make one stop and check two boxes off the list to button up a project."
"A. W. Hastings, like Clarke, has long been known as a company dedicated to creating solutions for the architectural and design community, and the homeowners they serve," said A.W. Hastings Executive Vice President and Chief Operating Officer Keenan Burns. "7 Tide will serve to enhance our commitment to our network of independent retailers by providing opportunities for customers to experience the Marvin product in new ways. We see our partnership with Clarke on this innovative and technology-driven Boston facility as an important part of our evolution and one more way we can respond to the needs of our customers."
Both companies will use the showroom to educate and inspire architects, designers and homeowners about their wide variety of products and services, and refer customers to their respective dealer networks for the actual product purchase.
The 7 Tide building will be completely renovated, with the Sub-Zero, Wolf and Marvin Showroom opening in spring of 2015 in 9,500 square feet on the main floor.
"We studied what Sub-Zero and Wolf has been doing in other parts of the country," said Sean Clarke, "and hired Stephen Baker of Baker Design Group in the Seaport District, to help us envision Clarke 3.0, a new generation showroom and test kitchen like nothing that exists in the U.S. today. We are creating an environment where human expertise and technology will be leveraged to deliver a one-of-a-kind experience."
According to Clarke, they will forgo the typical lobby reception area in favor of a Clarke Barista, who will greet visitors with a custom cup of coffee, espresso, cappuccino, latte or other brewed beverage of their choice, delivered courtesy of Wolf's new Built-in Coffee System. The Showroom and Test Kitchen will exemplify at every turn the latest Marvin technology like their Lift and Slide doors, which allow a seamless transition from the exterior to the interior, and offer a visual mélange of the newest thinking in design, showcasing how Sub-Zero and Wolf's New Generation appliances can transform kitchens, as well many other spaces in today's homes.
"From the moment a showroom guest enters, we want their experience to be like nothing they expected," continued Sean Clarke. "The products we represent appeal to a very select clientele and the professionals who design their homes, so we are striving to create a solution center that allows people to think out of the box about their home environments. Our Wolf Test Drives, a concept we pioneered more than a decade ago, will continue to be part of our offering, as cooking on our appliances is the only way to truly appreciate the features and benefits that set them apart."
Clarke reports that through live displays and unique technology, visitors will be able to see every single model that Sub-Zero, Wolf and Marvin manufacture and understand how these products can enhance a homeowner's lifestyle and the value of their homes. The ground-floor showroom will include an extensive outdoor kitchen and entertainment area highlighting products at the forefront of outdoor living trends.
"We love the history of this area," commented Sean Clarke. "In 1943, 7 Tide was known as The Riggers and Sail Loft Building and owned by the U.S. Navy Yard. In 1983, it was purchased by Paul Mustone, owner of Reflex Lighting, who has agreed to retain his headquarters here as a tenant in the newly remodeled facility. It's an exciting time in this part of the city and we're extremely pleased to be part of the revitalization of this area of Boston."
Clarke has worked closely with the Mayor's office and the Boston Redevelopment Authority to communicate the plans they have for this new location. "My father has been considering a downtown Boston showroom for many years," said Clarke, "and with all of the creativity and thought leadership happening in this sector of the city, the time is just right."
For more information, visit clarkeliving.com
About Clarke
Clarke is New England's Official Sub-Zero & Wolf Showroom and Test Kitchen, with locations in Milford, MA and South Norwalk, CT. Clarke's hallmark is an exclusive Appliance Test Drive, where homeowners can actually cook on Wolf appliances or test ASKO laundry pairs in order to best select the models that will enhance their lives. Visitors can see more models of Sub-Zero and Wolf at Clarke than anywhere else in New England. In addition to marketing Sub-Zero, Wolf and ASKO, Clarke showcases a wide variety of products from other quality brands including Best, Scotsman, Dawn sinks and Waterstone Faucets. Clarke sells its brands through a network of authorized retail dealers in all six New England states. Clarke also offers Clarke Customer Care, a dedicated Sub-Zero, Wolf and ASKO repair service that has earned them top customer satisfaction ratings in the U.S. For more information, visit http://www.clarkeliving.com.
About A.W. Hastings
Founded in 1846, Enfield CT-based A.W. Hastings & Co. is the New England and Eastern New York distributor for Marvin Windows and Doors. A.W. Hastings is an exclusive product and service provider of the Marvin Family of Products, a specialization which has allowed the company to deliver an elevated level of value-added services focusing on providing marketing, education, sales, recruiting and technical expertise through a committed network of alliances. For more information, visit awhastings.com.