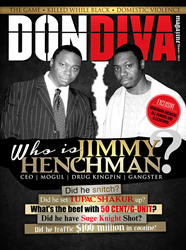 The government skillfully and systematically went after those around me with the help of individuals like [gangster] Haitian Jack, who is now in the witness protection program and was relocated to the Dominican Republic.
New York, NY (PRWEB) November 14, 2014
In a world exclusive interview with Don Diva Magazine, convicted drug kingpin James "Jimmy Henchman" Rosemond discusses the true story about his childhood, alleged attack on Tupac Shakur, his beef with 50 Cent, the friends he says betrayed him and much more. The issue is available now in stores and at dondivamag.com.
Rosemond, once a highly sought -after manager in the Hip-Hop music world, is currently serving a life sentence without parole plus five years. Over the years, Rosemond has denied all requests for interviews. Now he's sharing his story exclusively with Don Diva Magazine, due to the trust that Don Diva Magazine has procured over a long tenure of accurate journalism.
"I'm extremely proud of our upcoming issue—and the interview with Jimmy is an amazing cover story," says Don Diva's Publisher, Tiffany Chiles. "He is answering all of the rumors and accusations that have been made against him, and you can only find it here. I'm really excited about it, and I believe the readers are going to love it, too."
Known as "the Original Street Bible," Don Diva Magazine is giving free access to its upcoming issue to celebrate the launch its much anticipated new website. In addition to the exciting cover story with Rosemond, the magazine's new and improved format includes articles and stories that focus on all elements of the "gangsta" life, including street crime/legal issues, fashion, cars, music and current trends.
"We want to educate and empower our readers," Chiles says. "Don Diva is about real people; it's authentic and it's frank and our readers value that. Our re-launch is about taking Don Diva to the next level. The new site will provide fresh content daily, it will deliver news on drug laws and legal advice. We'll keep on top of current trends and there will even be a little bit of gossip. It's going to be an incredible complement to the magazine."
Since 1999, Don Diva Magazine has targeted the urban community with a sole focus of providing relevant and authoritative content. It is published quarterly.
The magazine is very active on social media; check out its Facebook page at facebook.com/dondivamag and follow it on Twitter at @dondivamagazine.
You can view the full issue here: http://www.DonDivaMag.Com/Jimmy-Henchman/
or
You can read one of the cover stories here: http://www.dondivamag.com/?p=565662
-30-
For more information, contact:
Tiffany Chiles
Publisher
347-815-3229