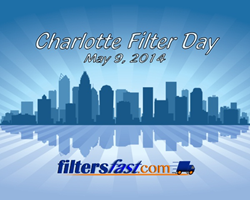 Don't stand IN line. Order your filters ON line! - FiltersFast.com
Charlotte, NC (PRWEB) May 05, 2014
This month, FiltersFast.com will celebrate their 10 year anniversary; growing from one employee in company President and Founder Ray Scardigno's basement, to over 50 full-time employees occupying multiple distribution warehouses and a corporate office. Product selection has increased from one type of refrigerator filter to over 15,000 unique filtration products. FiltersFast.com has become the leading e-commerce business in the air and water filtration industry and is based right here in the Charlotte metro area!
After 10 successful years, FiltersFast.com has decided it is time to get out there and say hello to current customers who may have no idea that this is a locally owned and operated business and to introduce themselves to others who may be searching for an alternative to traditional retail store shopping. FiltersFast.com would like to offer the advice of "Don't stand IN line. Order your filters ON line!"
Come on out on Friday May, 9, to the corner of Trade & Tryon Streets, Charlotte, NC, between the hours of 11:30 a.m. and 1:30 p.m., to celebrate Charlotte Filter Day with FiltersFast.com.
Since 2004, FiltersFast.com remains fully committed as the authoritative resource in air filters and water filters. The company offers first-rate products at the best competitive prices. They strive to add to their customer's overall quality of life by simplifying a sometimes mundane, yet very necessary task. For more information about their wide-range of air filters and water filters, visit http://www.filtersfast.com or call customer service at 1-866-438-3458.