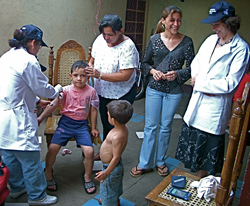 Researchers in the FIRST program are developing a low-cost diagnostic assay for detection of Dengue virus protein NS1 in infected patients. This assay will be produced at a price point that is affordable to public health systems in Latin America.
San Francisco, CA (PRWEB) June 24, 2014
SSI, a San Francisco nonprofit founded by Eva Harris, UC Berkeley Professor of Infectious Disease and Vaccinology and former MacArthur "Genius" award winner, has worked to minimize the threat of potentially fatal Dengue disease for 15 years. With the latest award of $1 million dollars, Harris and other SSI investigators will be able to extend their reach and speed up their efforts.
"This project is especially crucial now because the prevalence of Dengue is growing rapidly and is now estimated at approximately 390 million infections per year," said Harris.
Through a partnership with UCSF Global Health Sciences, which has been awarded $6 million jointly from the Carlos Slim Health Institute and the Bill & Melinda Gates Foundation, SSI will lead projects in Nicaragua and partner with UC Berkeley to detect, respond rapidly, and treat Dengue disease, which now threatens half the world's population.
The global incidence of Dengue has grown dramatically in recent decades. SSI has developed a program that includes open-source Information and Communications Technology (ICT) tools that can automate laboratory, surveillance and clinical management practices to control Dengue more quickly and effectively. SSI's lower-cost diagnosis tools, new assays for monitoring infections and facilitating development and evaluation of vaccines, as well as their ICT toolkit, will be used to help reduce Dengue virus infection and disease in Mesoamerica (Central America plus Mexico) and worldwide.
"Dengue continues to spread uncontrolled, creating more and more pressure on public health systems and governments to respond effectively," said Dr. Josefina Coloma, UC Berkeley Project Scientist and SSI Executive Director. "Dengue diagnosis, rapid response to outbreaks, and timely surveillance has been hindered by the need for affordable, acute-phase detection of Dengue virus infection. However, such diagnostic kits are prohibitive for most public sector applications in Central America and elsewhere. In collaboration with UC Berkeley and SSI's Nicaraguan Center of Excellence, researchers in the FIRST program are developing a low-cost diagnostic assay for detection of Dengue virus protein NS1 in infected patients. This assay will be produced at a price point that is affordable to public health systems in Latin America."
SSI is a contributing partner of the FIRST collaboration, which is led by Jaime Sepulveda, MD, DSc, MPH, Executive Director of UCSF Global Health Sciences, and Principal Investigator of the program. FIRST focuses on developing tools, drugs, technologies and new interventions that address the global public health threats of Dengue, Chagas disease, and onchocerciasis (River Blindness), and thus has the potential to benefit billions of people worldwide.
SSI is involved in three projects that comprise the Dengue Portfolio of FIRST, which in collaboration with UC Berkeley, under the leadership of Drs. Coloma and Harris include affordable Dengue diagnosis and new assays for use in vaccine development and evaluation, and under the direction of William Avilés, SSI's Informatics Director in Nicaragua, involve development of informatic tools for Dengue health systems.
"UCSF is delighted to partner with SSI, which will play a critical role in the FIRST program's Dengue research," said Sepulveda. "Drs. Coloma and Harris have a proven track record of creatively building sustainable solutions that strengthen local scientific capacity, which is a crucial objective of the FIRST program."
More information about the program and these individual projects can be found at: globalhealthsciences.ucsf.edu/research/first.
Please see Fact Sheet for more information.
About SSI:
Sustainable Sciences Institute (SSI) is an international non-profit organization that works to improve public health in developing countries by building local capacity for health science research that directly impacts the local community. It is our mission to build scientific capacity for public health worldwide. Our work is based on the premise that global health relies on biomedical scientists and public health workers who can recognize and resolve infectious disease problems at the local level. To that end, SSI helps researchers gain access to training, funding, information, equipment, and supplies, so that they can better meet the public health needs of their communities. Our current geographic reach includes thirteen Latin American countries and Egypt, and we recently expanded to reach additional countries in Africa.
SSI is recognized as a leader in scientific capacity building. Its technology transfer and training programs have been lauded as a model by the World Health Organization, the Pan American Health Organization, the Organization of American States, the National Academy of Sciences, and the National Science Foundation, as well as by health officials in developing countries. The unique training model ensures that the knowledge and capabilities for infectious disease research are passed on to local scientists.
SSI's flagship project is in Managua, Nicaragua, where SSI has worked since its inception with talented scientists and health workers to build Nicaraguan scientific capacity, was incorporated in Nicaragua in 2004. Over the last six years, Nicaraguan scientists supported by SSI have managed the longest continuously running pediatric cohort in the world (since 2004), with the aim of understanding the epidemiology, transmission and risk of dengue and influenza, and their laboratory is now recognized as a Center of Excellence in dengue research in Central America.