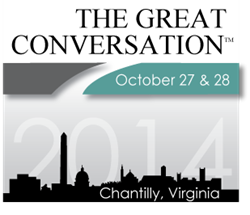 In a conference-weary industry, this program stands out for delivering effective and practical guidance for current and emerging security leaders-Tom Mahlik, Deputy CSO and Director of Global Security Services, The MITRE Corporation.
Bellevue, WA (PRWEB) September 30, 2014
The Great Conversation in Security, the signature forum for risk, resilience, and security leaders, announced its agenda and speakers for the October 27 and 28 event in Chantilly, Virginia at the Westfields Marriott.
"In a conference-weary industry, The Great Conversation stands out for delivering effective and practical guidance for current and emerging security leaders" said Tom Mahlik, Deputy CSO and Director, Global Security Services of the MITRE Corporation.
The Great Conversation answers the question: "What does it take to be a next generation security leader?" Thought leaders and leading practitioners convene to share their best practices, core leadership principles, and the proven solutions that are changing the way security is managed and measured.
"The Great Conversation will focus on the rapid escalation of all-hazards risk, value articulation for its stakeholders, and the enabling technology that provisions next generation security programs" said Ron Worman, Managing Director of The Sage Group.
The Great Conversation will feature the Security Executive Council's (SEC) premier leadership executive training forum, The Next Generation Security Leader™ (NGSL) Program, on October 27. "Our industry requires a new framework for relevantly delivering value to our organizations," said Francis D'Addario, former CSO, Starbucks. "The Next Generation Security Leader program delivers on this promise."
The forum is driven by 18 CSO-level faculty including but not limited to, Francis D'Addario, Bob Hayes, former CSO, Georgia Pacific, George Campbell, former CSO, Fidelity Investments and Dean Correia, former Director of Corporate Security, Wal-Mart Canada.
CSO-level speakers from organizations like Delta Airlines, Dell Computer, Sony Pictures Entertainment, The Boeing Company and RTI International will share their experiences leading innovation and change within their organizations while implementing next generation programs.
The Great Conversation in Security forum and community has a 10 year track record of delivering a path to value for risk, resilience, and security executive leaders who are challenged by decreasing budgets, lack of security metrics to justify their value, limited bandwidth to deploy, and increasing global risk.
Besides an executive level curriculum on day one, day two promises vetted case studies and engaging key note presentations. This will include critical trends that will impact the future of security programs, a prescription for delivering value during and after "an event," and a CSO-led table top exercise that simulates the road mapping and planning process with and through a partner and vendor ecosystem.
National Integrators, Kratos Public Safety & Security Solutions (Kratos PSS) and Aronson Security Group (ASG) will act as hosts of the forum to the security leaders, consultants, integrators, and technology vendors that compose The Great Conversation.
"Kratos has personally seen the value of a Great Conversation to security executives," said Ben Goodwin, President of Kratos PSS. "We have seen the thought leaders in the industry convene and have serious conversations about how our market is changing and what practices and technology will need to be deployed to meet the challenges ahead. We are pleased to lend our hand and our voice to this premier leadership forum."
"Aronson Security Group has always believed in leadership, change, and innovation," said Phil Aronson, President of ASG. "We want to be seen as an advocate for positive steps that add value to our industry. We have seen how the conversations started at this forum have encouraged new ideas, new coalitions, and transformed change in security executive programs."
About The Great Conversation
The Great Conversation in Security is produced by The Sage Group with the support of local hosts to advance the value of all the stakeholders in the risk, resilience, and security industry through a strategically organized and executed leadership event. The Sage Group designs and manages the event for key members of the risk and security ecosystem.
About ASG
ASG is the premier independent provider of risk, resilience, and security solutions. Through a Global Security Network of partners, ASG delivers end-to-end security program services that drive value and mitigate risk. For over 50 years, ASG has been providing engineering excellence, world class service, and security expertise to premier regional, national, and global organizations.
About Kratos Public Safety & Security Solutions
Kratos Public Safety & Security Solutions, Inc. (Kratos PSS) is an industry leader in security system integration focused on access control, video surveillance, and building automation. Kratos PSS provides a full array of services to its clients such as system design, custom installation, 24/7 technical support, and remote system monitoring. Kratos PSS is a wholly owned subsidiary of Kratos Defense & Security Solutions, Inc. (NASDAQ: KTOS). Kratos Defense & Security Solutions is a specialized National Security Technology business providing mission critical products, services, and solutions for United States National Security priorities. Kratos' core capabilities are sophisticated engineering, manufacturing, and system integration offerings for National Security platforms and programs. Areas of expertise include C5ISR, satellite communication systems, electronic warfare, unmanned systems, missile defense, cyber warfare, cyber security, information assurance, and critical infrastructure security. Kratos has a primarily engineering- and technically oriented work force of approximately 3,600.
About The Security Executive Council:
We are a research and advisory firm for security leaders. We have a collective of close to 100 security subject matter experts that have been successful security executives or are recognized industry experts in their field. The resources and tools we develop are constantly evolving to provide maximum value. Some engage with us by way of multi-year "retained" services agreements (Tier 1 Stakeholders). Tier 1 Stakeholders are those that want support on an ongoing basis but also want to have an active role in identifying solutions for the industry. Others come to us for a specific solution to a contained issue. In all the ways people engage with the SEC the bottom line goal is to help define and communicate the value of the Security organization.
About The Sage Group:
Fundamentally, The Sage Group is about value. Sage assists business owners and leadership teams facing a business inflection point around value – how to see value more clearly, how to grow value more effectively, and how to realize value more predictably. Sage works closely with client's internal resources and the company's market ecosystem, creating a path to achieve optimized value for their business by defining, accelerating, and sustaining compelling personal, professional, and corporate performance.