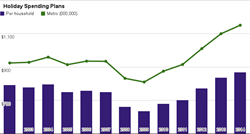 "Our data tell us that consumers are ready to buy." - Dave Brennan, Ph.D.
Minneapolis and St. Paul, Minn (PRWEB) November 20, 2014
The spirit of holiday giving is alive and well in the Twin Cities, according to research conducted by marketing professors at the University of St. Thomas.
Metro region shoppers are planning to spend $868 per household this holiday season. That's the highest amount since the St. Thomas Holiday Sentiment Survey began 13 years ago. It's up $31 or 3.7 percent from 2013 and up $231 or 36 percent from the survey's recession-era low point in 2009.
When it comes to gift giving, Twin Cities shoppers are significantly more optimistic this year than they were five years ago. When asked if they'd spend more or less on holiday spending, 24 percent said they'd spend less and 17 percent said they'd spend more. That compares to 2009, when 54 percent said they'd spend less and 8 percent said more. Fifty-nine percent this year said they'd spend about the same, while in 2009 39 percent said they'd spend the same.
The annual survey is conducted in late October and early November and provides data on Twin Cities holiday shopping trends. The survey measures the intent of Twin Cities shoppers: how much they think they will spend for holiday gifts, what they will spend it on, and where they will spend it.
The research is conducted by Dr. Dave Brennan, Dr. Lorman Lundsten, Dr. Sandra Rathod and Jonathan Seltzer at St. Thomas' Opus College of Business.
Generally tracking the path of the recession, the survey's decline in predicted spending first appeared in 2008 and was especially pronounced from 2008 to 2010. There have been steady, incremental gains in predicted holiday spending per household since the 2009 lowpoint of $637.
From 2002 to 2009, the St. Thomas study mirrored or painted a slightly more pessimistic holiday shopping picture than national surveys. From 2010 to 2013, St. Thomas' data was more optimistic. This year, the university's predicted increase in household spending of 3.7 percent is slightly lower than national predictions: Deloitte & Touche is predicting a 4 to 4.5 percent increase, the National Retail Federation is predicting 4.1 percent, and the International Council of Shopping Centers is predicting 4 percent.
What will shoppers buy with their $868? The professors created an index to analyze the relative popularity of 14 gift categories:
1. Gift certificates (last year 1)
2. Clothing/accessories (last year 2)
3. Cash (last year 3)
4. Travel (last year 6)
5. Toys/hobbies (last year 5)
6. Computers/related items (last year 9)
7. Books (last year 4)
8. Entertainment (last year 7)
9. Sporting goods (last year 10)
10. Cell phones, related items (last year 13)
11. Consumer electronics (last year 11)
12. Video games (last year 8)
13. Furniture/furnishings (last year 14)
14. Jewelry (last year 12)
This year's results show that shopping malls remain popular but over the years have lost some ground to free-standing stores and especially the Internet.
Respondents plan to spend 43 percent of their holiday budget at the region's malls and downtown areas. That's down from 45 percent last year. Shoppers will spend 19 percent at free-standing stores this year, up from last year's 17 percent.
After 12 years of steady increases, the Internet showed a very small decline this year. Last year 34 percent of the household holiday budget was spent on the Internet and this year it's 33 percent.
"Our data tell us that consumers are ready to buy," Brennan said. "Coming out of the recession we saw larger annual percentage increases in household holiday spending … 8 percent last year compared to 4 percent this year … but it is harder to maintain those large increases when you already are doing well," he added.
The professors are watching the growing phenomenon of stores opening at ever-earlier times on Thanksgiving. "What we sometimes call 'Christmas Creep' began when stores started opening earlier and earlier on Black Friday, until they opened at midnight," Seltzer said. "Then they started opening Thanksgiving evening. This year several will be opening at 5 p.m. We are also seeing some promotions available the Wednesday and weekend before Thanksgiving.
Will the data-breach problems affect credit-card use this shopping season? "We don't think so," Lundsten said. "We hear on the news more and more often about the theft of credit-card data, so we are getting used to it. Also, not many of us have been directly affected, or know someone who has had problems with their cards or lost any money. We don't see what you might call a 'cash Christmas' in the stores, and consumers will continue to use their cards on the Internet.'"
On the Internet, with Amazon is leading the pack by a huge margin. "Amazon is a wild card that we're watching closely," Seltzer said. "They lost almost half a billion dollars in the third quarter and the company has indicated the losses may increase in the fourth quarter. They have been buying sales at the expense of profit and it will be interesting to see how aggressive they will be this holiday season."
This year's holiday spending survey included 306 online responses from households in the 13-county Minneapolis-St. Paul Metropolitan Statistical Area, which includes two counties in western Wisconsin. The respondents reflect the demographics of the area as well as those who responded to previous holiday spending surveys.