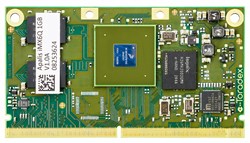 (PRWEB) February 05, 2014
The Apalis iMX6 module is based on Freescale i.MX 6 series of SoC, and offers an operating frequency of up to 1.2 GHz. Apart from the benefits of long term product availability (of more than 10 years), and compatibility with the existing Apalis T30 module, this module is also qualified for industrial temperature range -40° C to 85° C.
More details including datasheet shall be published by the last week of February. We will be showcasing the Apalis iMX6 computer module in the Embedded World Exhibition, 2014, in Nuremberg (Hall1/1-118 and Hall4/4-139).
For more details on Apalis family, click here.
To know more about the Apalis T30 module, click here.