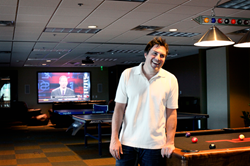 When the Internet of Things takes hold in these developing nations, it's safe to say that the changes are here to stay. This is a change I can feel excited about
Scottsdale, AZ (PRWEB) November 15, 2014
Jason Hope, entrepreneur and philanthropist based out of Scottsdale, believes that the Internet of Things is poised to change business and society by connecting people and their devices in a greater way than ever before. His insights were supported through a recent Reuters article, which indicated that many countries in Africa are stepping up and embracing the Internet of Things for themselves.
Africa may be the world's poorest continent, but technology and the development of new connected technology may help improve that situation. In 2014, a recent Reuters article entitled "Africa fast off blocks in adopting Internet of Things," researchers found that the majority of mobile machine-to-machine connections are now being made in developing countries, including many in Africa. Jason Hope believes this shows one of the positives of the developing Internet of Things.
According to the article, by the end of the year the number of Internet of Things connections in the developing world will reach 128 million, which over half of the number of connections around the globe, with the potential to rise to close to 60 percent over the next four years.
"If these predictions are accurate," said Jason Hope, "It shows how quickly the Internet of Things is moving into the developing world."
South Africa is a good example of this, as it is the continent's most advanced economic power. The country has added smart meters for their power utility in Johannesburg, its largest city, and has led the continent in rolling out connected devices across the board. Other countries are following suit quickly, and connected point of sale terminals are popping up across the continent.
"This makes it easier for merchants to do business in a global, and digital, economy," states Hope.
"When the Internet of Things takes hold in these developing nations, it's safe to say that the changes are here to stay. This is a change I can feel excited about," stated Hope.
About Jason Hope
Jason Hope is an entrepreneur and investor that enjoys considering the future of technology. From his home in Scottsdale, Jason invests his money and time in projects working to improve society and the future. Learn more about his work and his passions at http://www.jasonhope.com