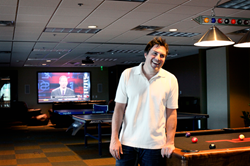 Most profit is going to be made by the companies that launch new connected devices, but investors who choose the right startups to invest in can make a fortune too
Scottsdale, AZ (PRWEB) November 28, 2014
The Internet of Things is the next greatest revolution in the online world, but Jason Hope and Entrepreneur.com warn up-and-coming entrepreneurs that getting a piece of that pie is not going to be easy. Experts estimate that the Internet of Things is currently worth $33 billion, and that number is growing, but adding a product to the growing lineup of connected devices to get a piece of that profit requires careful planning.
According to an article on Entrepreneur.com published on November 17th entitled "Want a Piece of the $33B-and-Growing 'Internet of Things' Market?" the key to a successful launch in this new market is going to be making an initial value proposition quite clear. Jason Hope agrees with this statement. "We have thousands of devices hoping to solve problems by connecting people to the Internet, but only a few of those will really take off. Startups and new tech launches must make their value proposition clear, and ensure that it is needed by their target audience," Hope said.
Other issues that new companies or new products must address are compatibility and security. Consumers will want to have their devices compatible with one another, even if they do not realize it at the initial purchase, so those products that speak the same language as others will do better. Security is a major problem with many new IOT devices, and one that consumers expect to be addressed moving forward. Finally, the most successful new devices will be those that a novice can use.
And what about actually investing in this growing phenomenon? Hope chimes in on that too. "Most profit is going to be made by the companies that launch new connected devices, but investors who choose the right startups to invest in can make a fortune too. The key is to look for a new product or new company that follows the guidelines in this article before investing," he said.
About Jason Hope
Jason Hope believes in the power of technology to improve life for people in all areas of life. As an entrepreneur, tech expert and futurist, he uses his resources to help promote research and development in tech and medical fields, while also supporting the local community. Jason is an Arizona native who currently lives in Scottsdale. Learn more at http://www.jasonhope.com.
About Entrepreneur
Entrepreneur is a North American publication that carries news stories about entrepreneurialism, small business management, and business opportunities.