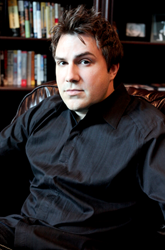 To be viable in the workplace of the future, and the very near future at that, workers need to be prepared to innovate. Developing skills that embrace the Internet of Things and connectivity in general will be crucial
Scottsdale, AZ (PRWEB) December 28, 2014
Today's workplace looks nothing like the workplace of a decade ago, and Forbes has recently posted an article indicating that this fact means workers are going to need to change and adjust. Innovation is going to be crucial in the workplace of the future, but it is not something that can be developed overnight. Jason Hope agrees with Forbes that certain skills must be developed in order to grow innovation and make one more viable in the modern workplace.
In an article dated November 30th and entitled "Ready for the Internet of Things? 5 Skills You'll Need," Sarah Miller Caldicott indicated that students, employees and employers need to be aware of the need for innovation in the modern workplace as the Internet of Things starts to impact it. "Everyone on the planet will be impacted by the Internet of Things," she states. "It will dwarf every kind of technology platform we've seen thus far."
Jason Hope agrees. "To be viable in the workplace of the future, and the very near future at that, workers need to be prepared to innovate. Developing skills that embrace the Internet of Things and connectivity in general will be crucial."
In the article, Caldicott indicated five skills or qualities that individuals need as they enter the Internet of Things workplace, including being an associative thinker, collaborator, communicator, knowledgeable and persistent. These five core skills position an individual to be a good innovator, and this prepares the individual to work in a connected world.
"The Internet of Things is not going away," warns Hope. "We must be willing and able to adapt to it if we are going to excel in the modern workplace. Businesses and employees alike need to make changes in order to be more relevant and connected to the growing Internet of Things."
About Jason Hope
Jason Hope is a technology expert and futurist who resides in Scottsdale, Arizona, where he puts his resources to work furthering studies and research that will help fight aging and improve the technology landscape. A long-time advocate for the Internet of Things, Hope enjoys seeing where technology is heading and helping people make changes to adapt to the growth of technology in their lives. Learn more at http://www.jasonhope.com.