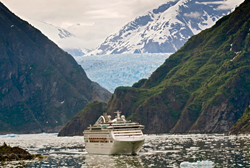 So many of the passengers on the previous Square Dance Cruise had Alaska on their "bucket list." It's a perfect destination for families, family reunions, or any type of group cruise because it offers a spectacular backdrop.
Kansas City, MO (PRWEB) April 23, 2014
The best name in cruise travel, Cruise Dreams, was recently selected to organize yet another Square Dance Cruise for the popular caller Jay Krebs, after a highly successful cruise in February of this year.
"Before the February cruise was even over," said Kim Gibbons, founder and president of Cruise Dreams, an agency specializing in individual, group and incentive travel, "we started planning this 2015 Alaska program. We chose Royal Caribbean's Jewel of the Seas for a number of reasons, but one of the most important was that 80% of this ship's staterooms have balconies – which is a must for Alaska."
Krebs selected Alaska for his next destination to combine his favorite activity with spectacular scenery. Special amenities are always available with these square dance themed cruises and this one is no exception. In addition to two square dances, dancers will also be treated to a private cocktail party and a fun ice cream social. Cruise Dreams group cruises also offer unusual extras, designed to enhance an already memorable experience and this one features a shore excursion, sure to please.
The Skagway Train Tour is included for passengers traveling with Krebs for his Square Dance Cruise. They'll travel through the White Pass Summit, traveling 20 miles at nearly 3,000 feet to the Summit of the White Pass—a coveted destination that few people ever have the privilege of experiencing.
The 2015 Alaskan square dance cruise adventure begins in Seattle, with ports of call along the inside passage, including Juneau, Skagway, and Tracy Arm Fjord. After this amazing Alaskan view the cruise returns via Victoria, British Columbia before ending in Seattle, Washington.
Travelers already booked on the square dancing Alaskan cruise, requested an option for a three-night land tour to Anchorage, Denali, and Fairbanks, Alaska. Other options will also be available.
Of course, what makes this cruise unique is its Square Dancing theme. Headed up by Hall of Fame square dance caller Jay Krebs, this is the quintessential cruise for square dance aficionados and newbies who want to discover what this fun-filled activity is all about.
Gibbons added, "So many of our passengers on the previous Square Dance Cruise told us that Alaska was on their 'bucket list.' It's a great destination for families and family reunions, or any type of group cruise because it's high on everyone's list and a cruise or cruise/tour combination is definitely the way to do it."
Cruise Dreams negotiated special pricing for this group to make family travel that is both affordable and memorable for all who book this cruise. A three part installment plan makes budgeting for this square dancing summer cruise 2015 easy. So much is included: all the extras like the excursion, cocktail party, ice cream social plus port taxes, pre-paid gratuities, roundtrip transfers from the airport for those arriving day of sailing and of course, everything that makes a cruise a particularly great value. The all-inclusive nature of a cruise with entertainment and meals included can make budgeting for a family vacation simple. These prices for summer cruises isn't something you'll find anywhere else, certainly not for a themed cruise with as many ports of call and additional land activities.
Other square dance cruises will soon be available so dancers should check frequently with Cruise Dreams to see what's next.
# # #
Cruise Dreams specializes in individual and group travel as well as corporate incentive travel- on land or at sea. Their special expertise in cruises, full ship charters or 5-star all-inclusive luxury properties world-wide is unmatched and backed by 25 years personal experience in all destinations, ships and properties. For more information, visit http://www.cruisedreamsincentivetravel.com or call 1-877-999-4533