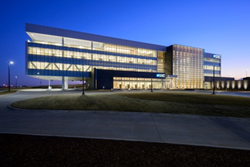 The design reinforces our culture, which stresses the importance of collaboration and excellence in service, says Gail DeBoer President of SAC Federal Credit Union.
Papillion, NE (PRWEB) April 08, 2014
SAC Federal Credit Union announces the opening of its new corporate headquarters in Papillion, Neb., serving as the flagship location for their 79,000 members and 220 employees. With 94,000 square feet of usable space, the building will accommodate the credit union's projected growth for the next 20 to 30 years.
Initially, the building will house 115 employees. Uniting corporate functions under one roof will enhance member services and reduce overall costs.
"We are excited to be completing this major milestone project for the credit union. The building symbolizes the growth and strength of the credit union" says Gail DeBoer President of SAC Federal Credit Union. "The credit union's mission of being our members' trusted financial partner, plus our behavioral values (including caring through collaboration, honesty and transparency, and critical thinking), guided the construction and the interior planning of the new headquarters."
About the Building
The design of the building balances form and function both visually and structurally. Architect and project partner, Leo A Daly, helped to ensure the use of sustainable building materials, energy-efficient lighting systems and geothermal heating and cooling.
In addition to the building's structural composition, its overall layout and aesthetic properties foster a collaborative and open environment:

Credit union branch: An innovative new branch, deemed the branch of the future, eliminates traditional teller lines. It also allows members to securely access safety deposit boxes with biometric technology.
Atrium: The 3,000-plus-square-foot atrium, complete with a floating staircase, features a unitized curtain wall system. This wall features a series of clear glass panes, which let in daylight while still offering solar protection.
Community meeting room: A first-floor community meeting room will be open to SAC's nonprofit and community partners to help support them in their work.
Fitness center: Developed for SAC Federal Credit Union employees and families, the CU Fit center features a wide array of machines, a yoga studio and locker rooms to support corporate wellness initiatives.
Indoor and outdoor lounges: Employees have access to indoor lounges and outdoor patios, as well as a fully equipped kitchen.
"Overall, our intention was to develop an inviting atmosphere for all who enter the building," adds DeBoer. "From the clear glass office doors to open-air workspaces, each interior decision was made to increase collaboration and communication throughout our business. The design reinforces our culture, which stresses the importance of collaboration and excellence in service."
Visiting SAC Federal Credit Union's Corporate Headquarters
Whether you're a current SAC Federal Credit Union member or you're simply interested in learning more, save the date for the Grand Opening and Ribbon Cutting Ceremony on Wednesday, May 7, at 10 a.m. Then join us for the Community Open House on Saturday, May 17, from 1 p.m. to 3 p.m. CT. The event is open to the public, and attendees are invited to tour the new headquarters. For more information, visit http://www.sacfcu.com/headquarters.
About the Credit Union
SAC Federal Credit Union is locally owned by its members and recognized for its community involvement. Motivated by member service rather than profit, the credit union's focus is on providing safety, soundness and convenience to its membership. SAC FCU offers a full line of personal and business products and services. Begin the journey to better banking today: http://www.sacfcu.com.
Facebook: http://www.facebook.com/SACFCU