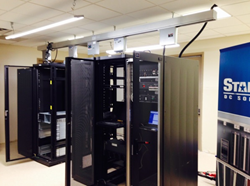 "The direct current implemented at Steel ORCA is actually a hybrid ac/dc solution designed to enable direct current technologies to evolve," said Dennis Cronin, Steel ORCA COO and Co-founder of the 7x24 Exchange.
Canonsburg, PA (PRWEB) November 11, 2014
Universal Electric's Starline DC Solutions and the EMerge Alliance are at the center of the initiative to bring 380V direct current (dc) power to data centers and commercial buildings. On November 12, co-location provider Steel ORCA will host an open house at its facility in Monmouth, NJ, which will include a 380V dc Interactive Showcase (380V dc IS@SO) as one of the highlights. The showcase features Chip2Grid™ technology from Starline DC Solutions, the first UL listed commercial-scale 380V dc power system from Emerson Network Power, 380V dc powered IT equipment from Lenovo, Hewlett Packard, and UNICOM Global, and is recognized by the EMerge Alliance.
"The direct current implemented at Steel ORCA is actually a hybrid ac/dc solution designed to enable direct current technologies to evolve," said Dennis Cronin, Steel ORCA COO and Co-founder of the 7x24 Exchange. "This evolution can help data centers meet their two primary objectives of increasing reliability and decreasing operating costs."
On November 12, Starline DC Solutions Engineering Director David E. Geary, PE will also address the Electric Power Research Institute (EPRI) about the incentives 380V dc can provide utilities to attract technology companies to their markets, as well as the incentives 380V dc can provide companies that are looking to upgrade their technology to more energy efficient solutions, such as converged infrastructure.
On November 17, Starline DC Solutions Director Tim Martinson will speak at the University of Pittsburgh's ninth annual Electric Power Industry Conference to update attendees on the impact dc power has on data center architectures. A distinguished panel will then discuss how ac and dc microgrids are changing the way we will use power now and into the future. http://www.engineering.pitt.edu/epic/
For further information about the November 12 open house at Steel ORCA, please visit the event website at https://www.eventbrite.com/e/building-data-environments-nowfor-the-future-registration-13731981727.
About Universal Electric's Starline DC Solutions
Universal Electric Corp. of Canonsburg, PA (UEC, Pittsburgh) has created the new division to provide a complete, turn-key system for safe and reliable use of 380V dc in data center applications. Universal Electric Corp., the leader in customizable ac and dc power distribution solutions, has been an industry innovator for more than 85 years. STARLINE DC Solutions is part of a natural progression to revolutionize electrical power distribution in data centers, industrial manufacturing facilities, retail chains and grocery stores worldwide. For more information please visit http://www.uecorp.com/busway/StarlineDC/
About Steel ORCA
Located in the center of the Princeton Technology Corridor, Steel ORCA Princeton is a strategically located data center in New Jersey. It will boast data connections of less than a millisecond to/from New York City and Philadelphia. Multiple carriers are on site. The center currently offers wholesale & retail Co-Lo, and a full suite of managed services business continuity Future Phases will include a large Cloud environment and a groundbreaking Digital Burst Environment with full Digital Utility options. http://www.steelorca.com
About University of Pittsburgh
The University of Pittsburgh's Gregory Reed, William Stanchina, and Brandon Grainger of the Swanson School of Engineering, ECE Dept. think that it might be time to redirect our attention to direct current. Equipped with a recent $800,000 grant from the Henry L. Hillman Foundation for leveraging dc power to transform the Pittsburgh Region, the three professors are approaching the promise of dc power from a perspective that specifically addresses dc technology and is focused on finding ways to, in the not-too-distant future, convert the longstanding ac power grid to a dc grid, which they believe has become a more efficient and logical way of addressing energy delivery needs in the 21st century and beyond. They are also collaborating with Bopaya Bidanda of the Swanson School and John Camillus of Pitt's Katz Business School, who are working on the project in a way that addresses the potential of DC technology to positively impact the economy, the natural environment, and quality of life. http://www.chronicle.pitt.edu/story/hillman-gives-grant-aid-project-direct-current-power
About the EMerge Alliance
The EMerge Alliance is a nonprofit, open network of more than 90 organizations reinventing electric power through the development of forward-thinking standards for the highly efficient use of hybrid AC/DC power in a variety of buildings. These standards focus on delivering dc power directly to digital electronics and power storage systems, simplifying the use of locally produced clean energy and making systems more flexible, resilient and sustainable. The EMerge Alliance Registered product program is the industry's only program designed to simplify the use and adoption of dc power products. Learn more at http://www.EMergeAlliance.org.
About Emerson Network Power
Emerson Network Power, a business of Emerson (NYSE:EMR), maximizes reliability, deployment speed and operational efficiency for communications networks. A trusted industry leader in smart infrastructure technologies, Emerson Network Power provides innovative, rapidly deployable solutions that deliver efficiency and uncompromised reliability regardless of network demands. Our solutions are supported globally by local Emerson Network Power service technicians. Learn more about Emerson Network Power products and services at http://www.EmersonNetworkPower.com.
Media Contacts
For Universal Electric:
Rachel Wilkin
724-597-7714
rwilkin(at)uecorp(dot)com
For Steel ORCA:
Lia Crocker
215-789-6260
liac(at)steelorca(dot)com
For University of Pittsburgh:
Paul Kovach
412-624-0265
pkovach(at)pitt(dot)edu
For the EMerge Alliance:
Christi Chesner
214-635-3023
media(at)emergealliance(dot)org
For Emerson Network Power:
Mark Berry
614-383-1605
Mark(dot)Berry(at)fahlgren(dot)com