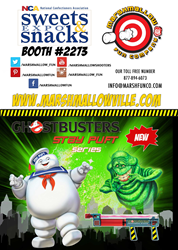 I'm super excited because it's a show that grows every year. We always find exciting people to work with from all over the world
Dallas, TX (PRWEB) May 14, 2014
Hollywood is a tough business, but things are looking pretty sweet for one particular movie star: Stay Puft Marshmallow Man. Marshmallow Fun Company plans to exhibit Ghostbusters products and Stay Puft branded marshmallows at the Snacks & Sweets Expo in Chicago (Booth #2273). In addition to Ghostbusters Marshmallow Shooters (set to hit shelves this fall), the company is working on a special line of Stay Puft branded marshmallows that promises to scare away the competition.
To make it all possible, Marshmallow Fun Company secured a licensing deal with Sony Entertainment as part of Ghostbusters' 30th anniversary. The deal marked the realization of a long-time dream for co-founder Beaver Raymond and Johnny De La Valdene.
"I grew up with Ghostbusters in my world, so I always thought that Stay Puft would be a perfect marriage for Marshmallow Fun Company," said Raymond. "It's funny when you've lived with something in your head for so many years—when it finally becomes a reality, it feels like it was meant to be."
The company already works closely with a major manufacturer to produce marshmallows for its Marshmallow Ville brand. Now, it will also produce regular and miniature-sized Ghostbusters Marshmallow Ammo, featuring a special Stay Puft packaging design.
Looking ahead, the company also plans to design and produce displays that will allow the shooters and marshmallows to sit side by side—a promising selling tactic for grocery stores, among other outlets. In the future, the company may also carry other flavors and colors of marshmallows on a seasonal basis.
In addition to the announcement of its Stay Puft brand, Marshmallow Fun Company looks forward to the Sweets & Snacks Expo as an opportunity to explore new partnerships and reinforce existing ones.
"I'm super excited because it's a show that grows every year. We always find exciting people to work with from all over the world," said De La Valdene. "It's always fun for me to build a bigger and better customer base that's broader in depth."
In addition to licensing deals with the likes of Ghostbusters and Duck and Buck Commander, Marshmallow Fun Company's sweet spot lies in exploring natural partnerships with candy and toy stores. The company develops private label products for candy and toy stores, enabling retailers to generate more sales while enhancing their own brands. The company has created private label products for well known stores like IT'SUGAR, FAO SCHWARZ and Dylan's Candy Bar.
It's not surprising that candy stores can't get enough of Marshmallow Fun Company's toys. After all, one might argue that the only thing people love more than candy is playing with their candy. From bows to shooters and blasters, the company has excelled at putting a deliciously delightful twist on the concept of a "snack attack." Thanks to its creative wares, it's easy for anyone to engage in food fights and let their creative juices flow.
Creative juices are something that Marshmallow Fun Company certainly doesn't lack. As displayed by the ever-increasing variety and selection of products, the company prioritizes innovation, product development and partnerships with fellow fun-loving brands. Drop by booth 2273 of the Sweets & Snacks Expo to get up close and personal with its latest innovations.