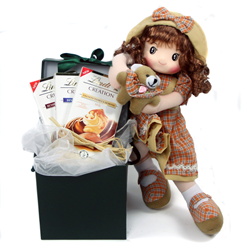 (PRWEB UK) 29 June 2014
Same day flower delivery company Flowers24Hours releases a colourful flourish of new bouquets and summery, treat-filled gifts baskets, online and in their shop for London flower delivery.
Currently, London flowers and floral arrangements can be sighted with increased frequency—and not just inside the local flower delivery shop—as the heat rises, as the parks and river embankments crowd with people and theatre, and the festive mood of summer officially permeates the city. As London transforms itself, quite literally "blooming", flower delivery service Flowers24Hours tries to do its fair share of beautification, helping to decorate shop windows, businesses and corporate events, restaurants and outdoor eateries—and, of course, the intertwined hands of happy couples.
For some people, summer brings to mind romantic walks and streets dappled with sunshine, well-manicured lawns, gardens full of buzzing bees and butterflies that, like the gardeners, don't mind the heat or getting a little dirty, because gorgeous flowers are worth it.
At least that is what London florist Flowers24Hours believes and demonstrates with their release of some brand new, elegantly designed floral arrangements, in addition to baskets and food hampers containing gourmet treats and luxury items for gift delivery. The flower delivery company has tried to capture the sentiments of summer itself: a bit of whimsy and a certain sweetness, an even dose of delight, which translates to bright colours and an ephemeral, carefree touch to their floral designs. Of course, the sweet comes from the chocolates, or the champagne and spirits, used in some of the company's gift baskets.
Gerberas, for their brightness, and wide blooms that look like little suns themselves, perfectly embody the look and feel of a day brimming full of sunshine. Customers who want to send flowers to London, or even have flowers delivered in London to themselves, can pick from Blooming Happiness, Blossom Bright, Sunshine and Gerbera Festival. And especially for the invariable rainy day, gerberas daises are excellent for adding to the lightness of a room, brightening moods as well as tabletops.
In case it is too wet outside, or a busy schedule affords little time for a last minute visit to the shop, Flowers24Hours also offers flowers delivery in London same day. This convenient part of the service has proved quite popular, especially when paired with the number of customers who also order gifts online. The Indulgence Basket or one of the Bath & Spa gift sets, such as Soap & Bubbles or the Bath Time Bundle, are filled with fragrant soaps, happy scents and good incentive for a bit of self-pampering.
Of course, there are options for those who want to buy gifts online but still want flower delivery in London. Some of Flowers24Hours traditional bouquets or flower arrangement are sure to please and excite both the sender and the recipient. The Sweet Darling bouquet and the cute Potted Gerberas are pure delight. Meanwhile, Sunshine and Shadow, another gerberas arrangement, combines light and dark together in three matching flowerpots, which make an ideal gift for any friend or business colleague, as well as family.
About Flowers24hours.co.uk
Find the best of all seasons in one: summer, autumn, winter and spring inspired flower design from same day flower shop Flowers24Hours.co.uk
London flower delivery service Flowers24Hours displays a variety of seasonally themed flower arrangements, no matter what the season.
UK florists know that time is of the essence—especially when it comes to growing gorgeous and fragrant flowers in London, Edinburg, Liverpool, Manchester and many cities demand for quality flower delivery in the UK. 24 hour flower delivery, next day flower delivery in the UK, and same day flower delivery are services a luxury London florist can offer. But Flower delivery in London can also be restricted by time of the year and season, no matter how professional the flower delivery service. Currently, if you send flowers to London or with any popular London florist, you are likely to find solely summer blossoms or summer-themed flower bouquets. Flowers24Hours makes sure to send flowers UK customers can enjoy both of the season and outside it, with designer flowers arrangements for flowers delivery in the UK that take inspiration from not just summer, but all four seasons' and their different flowers, colour palettes and themes.
As one of the top UK flower shops and florists London knows as a great UK gift shop, Flowers24Hours is definitely proud of their summer flower arrangements and online gift delivery in the UK. Tropical plants UK customers find reminiscent of warm summer days, tropical islands and the sea—like anthurium plants, the Rainforest flower arrangement or the Vriesea—are suited for offices, homes and gift delivery UK on any occasion. Buy flowers UK friends or family that live far away will appreciate and think of you fondly for, like Stephanotis Planter flowerpot, or the Hydrangea in a smart container. The ease with which anyone can buy flowers online means that you can send flowers to London, opting for either same day flowers or standard delivery, no matter where it is you live.
Flower delivery in the UK can also grant a little bit of winter for anyone wishing for variety in summer, feeling overheated, and in need of an alternative way to "cool" off a room. A single Winter White Rose in a box is easy to pick up from the London flower shop or select for online gift delivery in the UK. Though one of the simpler options for London flower delivery, it speaks volumes, with connotations of desire and thoughtfulness, and is an excellent alternative to red roses. Snow in Summer, a fish bowl full of white hydrangeas, is one of the rarer gifts delivered, truly a treat and bowlful of relief on any day that gets too warm.
Full of autumn flowers London customers will love, the Autumn Sunset is a mixture of autumn-hued red, yellow and orange flowers, arranged with crisp red foliage, all inside in a striking green-swirl vase. Some springtime arrangements by our exclusive London florist, like the Titiana and Sunset Tints, use pinks and lilac blossoms with soft verdant green foliage to evoke the feeling of budding life, new hope and fresh starts. The Blue Cotswold, made up of hydrangeas, and the Fleur, full of freesias, come in country kitchen jugs—ideal for gift delivery on any occasion and every season.