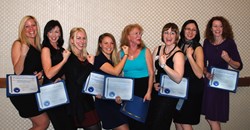 The Whirly-Girl Organization understands that helicopter students have to make every dollar count which may prohibit some from joining.
Anaheim, California (PRWEB) January 02, 2014
The Whirly-Girls Scholarship Fund is expanding the sponsorship program to include twelve initial memberships to the organization.
These sponsorships allow women who fly helicopters to join the Whirly-Girls organization at no cost and take advantage of the many benefits of being a member, including participation in the generous scholarship program.
The Whirly-Girls Scholarship Fund Inc. was incorporated in 1974 to oversee and administer the scholarship funds raised by the Whirly-Girls and their auxiliaries. The Fund is a federally tax-exempt 501(c)3 public charity. The Scholarship Fund administers a number of separate scholarships currently valued approximately $65,000.