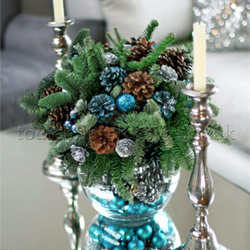 London (PRWEB UK) 25 November 2014
Online London florist Flowers24Hours warms things up with some of this winter's most exciting flower arrangements, revealing floral designs that are eye-catching and creative. The London flower delivery shop is committed to flower displays that are ever beautiful, innovative among other top flower delivery services in London, and delicately arranged.
Flower24Hours' floral arrangements are as versatile as they are gorgeous, equally wonderful for sending flowers as gifts and on special occasions, such as anniversaries or birthdays, and for private events. London flower company Flowers24Hours attention to balance of colour, blossom size, shape and variety, and an overall care and attention in their designs by leading floral designers and their head florists, also make their arrangements the perfect centrepieces and focal points in event floral design.
UK florist Flowers24Hours sees winter as an opportunity—with flowers and flower delivery as the perfect solution to cold, biting winds, shorter days, and gift ideas in the face of a quickly approaching holiday season. If people are spending less time outside, then why not make the inside a bright, warm place, full of colour and the delight that only flowers can bring? Amaryllis is a flower that fits the winter season perfectly and in a number of ways. The newly designed Amaryllis Love flower arrangement makes a gift ideal for warming up the rooms in homes and melting hearts of loved ones. It makes an impressive display of red and white amaryllis blossoms nested in a bed of green monstera leaves. The online gift is one to stimulate the senses, bright and sensual in its own right, but also evocative of Christmas.
On the other hand, Amaryllis Radiance is an arrangement that puts amaryllis blossoms to a slightly different but just as joyful purpose. Somewhat more versatile, this amaryllis flower arrangement is an ideal seasonal gift. Red blossoms, shining green leaves and decorative foliage make it a wonderful Christmas present for any friend, coworker or other business associate. Flower delivery shop Flowers24Hours also specializes as a premier corporate flowers delivery service, delivering office plants, office flowers and office arrangements London businesses use to create positive atmospheres for their employees—especially on some of the bleaker days in London—and festive environments within workspaces all throughout the city.
Of course, flowers are not the only joys of the holiday season. For all of its corporate arrangements, event flower design and unique types of gift flowers, Flowers24Hours prepares different combinations of gift baskets. The gift baskets use hand-selected flowers, cute plush animals and seasonal treats—like chocolates, biscuits and jams, or a bottle of red wine—which are sure to add a little excitement to the season's indoor activities. Baskets are also themed, like the Friendship Basket or The Gift of Love basket, and paired with a single rose or flower bouquet, they make a wonderful gift to be sent across town!
This winter online florist shop Flowers24Hours makes it difficult to be cold—or lonely—and customers certainly won't be lacking in visual or olfactory stimulation. Whether it is a sign of friendship or love, or a party item enjoyed by all, the good flower-y cheer is out for all to enjoy!