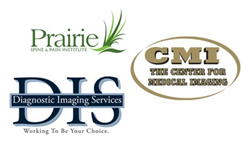 American Fork, UT (PRWEB) September 23, 2014
Pricing Healthcare announces its expansion into three states with the addition of the following facilities.
1. Prairie Spine & Pain Institute
(Peoria, IL)
Prairie Spine & Pain Institute is a nationally recognized leader in spine procedures and pain management. Dr. Richard Kube frequently presents both nationally and internationally on leading-edge, minimally invasive surgery techniques. The institute offers far greater experience using these techniques and quicker recovery times for patients.
2. The Center for Medical Imaging
(Pittsburgh, PA)
Consolidation in metropolitan Pittsburgh has created a duopoly with highly inflated rates, and patients are being stretched between the two. The Center for Medical Imaging in Greensburg is a quality, independent center saving western Pennsylvania residents hundreds and even thousands of dollars on every scan. The full-service outpatient imaging center recently added bone density scans to its extensive list of services.
3. Diagnostic Imaging Services
(New Orleans, LA)
With 5 locations in the greater New Orleans and Northshore metropolitan areas, Diagnostic Imaging Services is the largest freestanding outpatient imaging provider in southeast Louisiana. The centers are some of the most advanced technologically in the state, boasting the only 1.2T High Field Open Sided MRI system in the surrounding areas. DIS was the first in Louisiana to offer 3D mammography, and performs highly specialized scans including nuclear medicine, PET bone scans, and ultrasound-guided breast biopsy and MRI studies.
All prices for the above facilities are global. Prairie Spine's prices include facility fees, physician fees, and ansthesiologist fees. Both imaging centers' prices include the scan as well as the professional report.
Pricing Healthcare is a completely open, independent, online marketplace for direct-pay healthcare. Pricing information on the Pricing Healthcare site is current, searchable, and free to access from anywhere in the world, covering hundreds of procedures at facilities across the United States. The site offers healthcare providers unlimited dedicated pages to list their services and procedures, free of advertisements, in a simple, standardized interface.