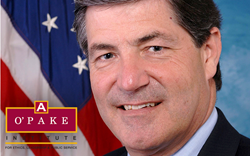 Reading, PA (PRWEB) November 09, 2014
Retiring U.S. Representative Jim Gerlach will draw on his 20 years of experience in public service to discuss "Civility, Compromise and Public Service" for Alvernia University's second annual O'Pake Lecture on Nov. 10, at 2 p.m., in the McGlinn Conference Center.
A lifelong Pennsylvania resident, Jim Gerlach has served for more than 20 years, beginning in 1990 with the first of two terms in the state's House of Representatives, followed by two terms in the State Senate.
Gerlach served his sixth term in the U.S. House of Representatives in 2014, representing portions of Berks, Chester, Lebanon and Montgomery counties. In December 2010, he earned a spot on the influential House Ways and Means Committee.
One of his biggest legislative accomplishments was creating a much-needed veterans cemetery. The bill Gerlach authored was signed into law by the President on Veterans Day in 2003, and the cemetery opened in Bucks County in 2009.
Gerlach also worked to advance the Alvernia's South Reading Youth Initiative program, which pairs college students with inner city kids for educational assistance and mentoring. And he voted to secure funding for science upgrades for both St. Joseph's University and Alvernia University in 2006.
"Ensuring that students educated at our nation's colleges and universities have access to the top equipment, instructors and facilities is imperative if we are compete at the home and in the global marketplace," said Gerlach, who earned a Bachelor of Arts degree from Dickinson College and a Juris Doctor from the Dickinson School of Law in Carlisle.
ALVERNIA is a thriving university that empowers students through real-world learning to discover their passion for life, while providing the education to turn what they love into lifetimes of career success and personal fulfillment, helping them make the world a better place. Situated on a scenic 121-acre suburban campus in historic Berks County, Pa., the university of more than 3,000 students is conveniently located near Philadelphia (60 miles) and within an easy drive of New York, Baltimore and Washington, D.C. With a College of Arts and Sciences and College of Professional Studies, Alvernia today offers more than 50 undergraduate majors and minors and a range of graduate programs at the master's and doctoral levels through its School of Graduate and Adult Education. Satellite sites are located in Philadelphia and Schuylkill County. As one of only 22 Franciscan institutions in the country, Alvernia's focus on caring for each other, the environment and the community are joined with a challenging educational experience to provide an unparalleled environment to grow, develop and mature as a person and professional.