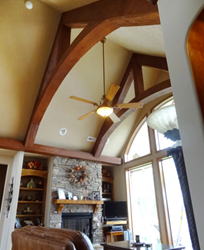 Nate Berkus was looking for "magazine-worthy designs" and faux wood beams can deliver that "WOW" factor - which may help sway the votes for the winning team." Steve Barron, Co-owner Barron Designs
Deer Park, New York (PRWEB) March 28, 2014
How do you get your product featured on a new nationally-syndicated competition reality series? Ask Steve Barron, co-owner of Barron Designs, parent company of FauxWoodBeams.com and FauxPanels.com, major suppliers of faux building products.
One of the Long Island-based company's faux wood beams will be on NBC's new home renovation series, "American Dream Builders" which debuted March 23. The show features 12 talented designers and home builders from around the country, who compete against each other in teams on two large home renovation projects each week.
According to a Zap 2 It article by Terri Schwartz, the show - produced by famed interior design and producer Nate Berkus - will provide enough resources so the competing designers can "create spectacular, long-lasting renovations."
"We knew our faux home decor options could be a terrific option for this new home renovation competition, and we're thrilled to be a part of American Dream Builders!" says Steve Barron, co-owner of FauxPanels.com and FauxWoodBeams.com.
Per Barron, Nate Berkus was looking for "magazine-worthy designs." With thousands of delighted clients sending in pictures of stunning renovations and home makeovers, Barron thought their faux home decor options – molded from real stone walls and wood beams - could deliver a "WOW" factor that may help sway the votes for the winning team.
"Our faux products are amazingly real, easy to install and incredibly versatile. And they deliver results that are spectacular, modern and extremely durable - the perfect trifecta for the time-stressed competitors."
Barron Design's decorative faux stone panels and wood beam products have also been used in other popular home renovation programs on HGTV and the DIY Network, as well as ABC TV's Extreme Makeover: Home Edition.
Barron Designs faux building decor will be included in the April 6 segment of American Dream Builders on NBC, airing at 8 pm ET.
For more information about American Dream Builders home renovation reality show, the contestants, judges and host, Nate Berkus, visit: http://www.nbc.com/american-dream-builders.
For more information about Barron Designs and their broad line of versatile faux home décor products – which are used by luxury brands like Ralph Lauren, professional builders, designers and DIY'ers alike - visit FauxPanels.com and FauxWoodBeams.com.
# # #
About Barron Designs
Barron Designs Inc. and its subsidiaries FauxPanels.com and FauxWoodBeams.com, are family-owned home improvement businesses run by sibling entrepreneurs Steve and Ruth Barron.
The Deer Park, NY companies are major suppliers of faux stone, brick and wood decorative building products, ceiling panels and architectural products for diverse residential, corporate and commercial markets, for home renovations, retail stores, commercial projects, offices and restaurants.
FauxPanels.com and FauxWoodBeams.com faux building products have been featured on numerous home improvement and DIY television shows, including Curb Appeal on HGTV, Man Caves on the DIY Network, Restaurant Impossible on the Food Network and Extreme Makeover: Home Edition on ABC TV.
Their dedicated Customer Service team assists interior designers, builders, residential and commercial clients with any home makeover, new retail build or commercial renovation project questions, including product options, project design, measuring questions, accessories and installation tips.
For more information about Barron Designs, visit BarronDesigns.com or call 800-651-4223.