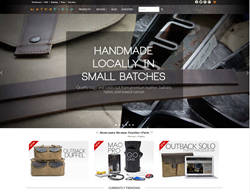 'I was overwhelmed by the number of customers willing to test the new site,' shared owner, Gary Waterfield. 'I personally read every single response. I was touched by their commitment to helping us make the site one that worked for them.'
San Francisco, CA (PRWEB) June 17, 2014
WaterField Designs, an innovative maker of custom laptop sleeves, designer bags and cases for digital gear, debuts its revamped, mobile-friendly e-commerce website. The new site provides users with a streamlined experience across smartphones, tablets and desktops. With the majority of consumers now multi-screen shopping, WaterField's new site is well-timed.
WaterField Designs, a San Francisco-based company known to incorporate customer feedback in products and business processes, worked with 300 key customers to test the new site prior to public release. The new site reflects countless recommendations from these ambassadors.
Customer response to the new website has been enthusiastic:
"Love the fact that the website's quality now reflects the quality of the products you make."
"Great navigation, quick to load, easy to see the range and nice feel for the products."
"The products and company feel are front and center, as they should be."
Customers may now create personal accounts to track their orders and to facilitate checkout by eliminating the need to enter billing and shipping information twice. A new WaterField Designs blog provides style tidbits and quirky findings. WaterField social media pages are accessible directly from the website, and website visitors can share content on their own social media channels. A creative customer-driven 6-word WaterField Reviews feature succinctly highlights users' product and company experiences to share with other customers.
Gary Waterfield, company founder, was overwhelmed by the number of customers willing to test the new site. "I personally read every single response. I was touched by their commitment to helping us make the site one that worked for them."
New WaterField Designs website features include:

Responsive design formatted for smartphones, tablets, and desktops
Clean, contemporary look and feel
Customer accounts
Streamlined navigation
Search functionality
Online chat (business hours)
Company blog
Availability
Now accessible at http://www.sfbags.com
About WaterField Designs
WaterField Designs manufactures custom-fitted, high-quality cases and bags for a full-range of laptop computers, tablets, smartphones, gaming devices, and other digital gear. All products are manufactured to exacting standards entirely in San Francisco. More information at Our Story.