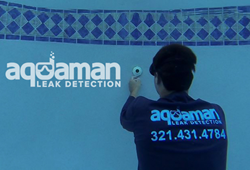 If you have a leak in your swimming pool or spa in one of the eight counties we service across Florida, we guarantee to find it, or the service call is free! -Lowell Ball, Owner/Operator
Brevard County, Florida (PRWEB) December 23, 2014
Specializing in saving precious water resources in Florida by finding and repairing water leaks for many years, the Aquaman Leak Detection company serves customers with conservation in mind. An expansion effort across the state of Florida brings the Aquaman leak Detection patented technology into Monroe County as the eighth currently being serviced by the Company.
Owner/operator of Aquaman Leak Detection, Lowell Ball, grew up surfing, fishing, and diving in the waters of Florida. An avid sportsman enjoying Florida's natural resources, his appreciation for the ecosystem and rich resources are a way of life.
Working in the pool retail and service industries in Brevard County for over 15 years, Lowell noticed early on that many pool owners ask questions about changes in their pool water levels and wonder how to tell if they have a leak.
According to the California Urban Water Conservation Council's website and the U.S. Environmental Protection Agency, an average of one in every twenty pools in America has a leak at any given time - and the water loss from each leak is significant.
Personally shocked by the findings, Lowell became more interested in what appeared to be a huge waste of natural resources and an extra cost to pool owners each month.
"Customers were shocked when I told them that an average pool experiencing just one fourth of an inch loss in water a day was wasting 80 to 100 gallons of fresh water each day", states Ball.
Ball began telling his customers about a simple bucket test that could be used to identify the difference between natural evaporation and a swimming pool leak. If a pool or spa leak was present he then referred his customers to a plumber or conventional pool company employee to get their swimming pool leak repair handled.
Many customers reported their pool decks and property being torn up in the process of looking for the leaks. Fear of property damage, excessive costs, stress, and the time involved for pool owners to find and repair a pool leak were being reported as leading reasons pool owners would allow known leaks to continue, wasting valuable resources.
Looking for a better way, Ball began finding and repairing the leaks himself. Driven by a passion for the conservation of the water and the desire to maintain his trusted relationships with customers, after years of hands-on experience servicing pools,detecting leaks, and fine-tuning his trade, he created a technological solution to the problem.
After being in the industry for over 10 years, he patented his technology, and Aquaman Leak Detection was born.
The patented Aquaman Leak Detection technology pinpoints the exact position of the leak using specialized and highly advanced hearing devices and processes that help avoid the excessive digging, tearing up, or demolition of property in the process of locating and fixing a leak and protecting valuable resources.
The technology works so well, the Company offers customers in need a guarantee to find the leak. Reviews on Angie's List and Google+ indicate happy customers and the Company has grown on word of mouth and referrals as their main source of new clients since opening the doors.
As a family owned and operated business with a focus on conservation and fast service, Aquaman Leak Detection has grown into eight Florida counties. Serving Brevard, Indian River, Monroe, Orange, Osceola, Sarasota, Seminole, and Volusia, each Aquaman technician is specially trained in unique leak detection and repair processes and uses the Aquaman patented technology to find pool leaks fast and preserve customers' property from undue damage.
The state of Florida is estimated to have over four million pools; one in twenty of which may have a costly leak.
Common clients of Aquaman Leak Detection are pool retail stores, pool builders, pool contractors, property managers, real estate agents and brokers, hotel and motel managers, gyms, public pools, and homeowners across the state of Florida who need help to find and repair a leak.
As the company continues to grow, rising to the need of homeowners in Melbourne, Palm Bay, Titusville, and the beaches of Brevard, providing additional forms of leak detection and repair has begun. In Brevard County, the Aquaman patented technology is being applied to find and pinpoint a slab leak or foundation leak efficiently and without damage to homeowners' property. Changing the landscape and reducing the costs of such significant repairs, the company expects to offer slab and foundation leak detection in all service areas within the year.
As the Aquaman Leak Detection company expands across Florida, it takes a message of values of water conservation and a family-owned an operated business with it. A growth and success story of finding and meeting the needs of the community with purpose and dedication.
More information about the Company, including future growth and employment opportunities, can be found in the Aquaman Leak Detection Linked-In Company Profile.