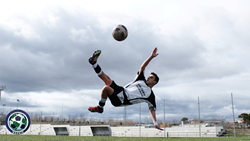 EduKick Madrid summer soccer camps offer players at every level an opportunity to train in Spain under pro Spanish coaches...and parents will appreciate our 24/7 adult supervision, education & cultural elements of our summer camps.-Joey Bilotta, President
Madrid, Spain (PRWEB) March 06, 2014
EduKick Madrid Football & Education Academy opens registration for its famous Elite Boys Soccer Training Camp and popular co-ed Spanish Language Immersion Soccer Camp scheduled for July & August in the Spanish Capital, Madrid, Spain.
EduKick Madrid International Football Academy is a full-time soccer and education academy boarding school located in Madrid, Spain. Now in its 11th year of business delivering a summer Spanish Immersion Soccer Camp and an Elite Academy Camp, and their very unique Academic Year-Long Academy Football Boarding School.
The academic year course combines full-time high school or Spanish language study with daily professional soccer training and insertion onto a Madrid area Spanish football squad for additional evening training and regular competitive weekend matches.
The daily training sessions for both EduKick Madrid summer soccer training camps take place at Estadio Municipal de Deportes Alberto Ruíz, the home of EduKick's affiliate Spanish 3rd Division Club, AD Colmenar.
EduKick Madrid offices and camp accommodations are located at the Universidad Autónoma de Madrid in the Erasmo residences on the Cantoblanco campus 19km to the North of the centre of Madrid. Players are transported daily from the University residence to the stadium by private EduKick mini-vans.
The EduKick camp residence offers the EduKick players many amenities such as a TV and DVD room, a computer room, a gym, study rooms, a games room, and Wi-Fi Internet service. On campus, EduKick Madrid campers will have access to a self-service Laundromat, canteen-cafe, vending service (food and drink), cleaning and maintenance, and night and weekend security.
The Spanish language Immersion Soccer Camp at EduKick Madrid is ideal for any young player from 10 or older that loves soccer and wants to improve his or her technical skills and ball familiarization while also receiving a daily Spanish language lesson. Campers can expect to train twice daily and play two or three competitive matches during the two week camp that begins June 28 and ends July 13, 2014.
Participants are supervised 24/7 for the duration of the camp by EduKick professional adult bilingual monitors who live in the residence with the campers. A minimum of two competitive friendly matches against local Spanish junior teams are also organised during the camp.
The EduKick Madrid co-ed Spanish Immersion Camp offers participation in Spanish language and culture in our daily classes for two hours each weekday. Classes never include more than 15 students per teacher, and are taught by native, qualified, experienced, and licensed teachers following a fun, conversational approach curriculum. To ensure proper placement, each student will take a Spanish language evaluation prior to beginning the program. To round out the international experience, student-players enjoy a Real Madrid Stadium tour, a Madrid guided city tour, and full-day excursions to both historical Toledo and Segovia.
The EduKick Madrid Academy Elite Camp, from July 15 until August 5, is designed for competitive male soccer players age 14 and above. This camp features three-weeks of daily professional coaching by EduKick Madrid Technical Football Director and staff (FIFA-qualified coaches). Just like the co-ed camp, all training sessions take place at Estadio Municipal de Deportes Alberto Ruíz, the home of EduKick's affiliate Spanish 3rd Division Club, AD Colmenar.
Student-players will have the opportunity to experience a minimum of three friendly matches against local Madrid teams, a Real Madrid Stadium tour, a guided city tour of Madrid, and a full-day excursion to historical Toledo. Daily Spanish language lessons are given Monday through Friday for at least an hour per day and daily gym/fitness sessions are monitored by EduKick Madrid technical staff.
At EduKick Madrid Football Academy coaches work with players on every level of their training to advance their physical, technical, tactical, and mental foundation in order to achieve better soccer performance. Coaching and training focuses on innovative physical conditioning, mental development, sports nutrition, and medical principles, striving to train young players to be excellent in all they do as a soccer player.
EduKick Madrid International Football Academy alumni soccer players are realizing their dreams in international, professional and collegiate soccer around the world. Alumni, such as Davide Somma (former Leeds United striker & South African International), Nico Muniz (signed professional contract with Real Salt Lake), Matt Sanner (former Captain of Princeton University now playing pro in Scandinavia), Marielle Benitez (former team captain of the Philippine Women's National Football Team nicknamed the Malditas), and many others are currently playing in College in the United States or pursuing professional or semi-professional soccer opportunities.
To Register for an EduKick Madrid summer soccer course contact EduKick directly at information provided in this release or visit EduKick.com.
EduKick Mission: To operate the world's leading international soccer/football and education academy boarding schools; building strong business relationships in a vibrant, creative and ethical international football environment. To teach, inspire and create the best technical and physically fit footballers possible and create international students with inter-cultural competence (ICC) enabling them to compete professionally and athletically in the modern competitive world.