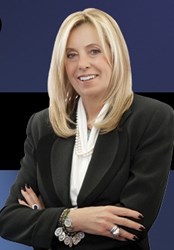 There is a hero inside all of us. We just need to let that hero out.
Little Falls, NJ (PRWEB) January 22, 2014
Judith Schumacher-Tilton, dealer principal of Gearhart Chevrolet and Schumacher Chevrolet has been recognized as an Ally Dealer Hero by Ally Financial (Ally).
Schumacher-Tilton was selected by Ally, which provides auto financing products and services, to be featured in an advertising campaign highlighting dealers who make a difference in their communities. She was chosen because of her extensive charitable work, specifically her family's non-profit organization, Give the Kids Hope Foundation.
The foundation provides educational and recreational opportunities for underprivileged children in New Jersey and is dedicated in its efforts to support Camp Hope in West Milford, which serves over 2,500 underprivileged children from northern New Jersey every summer.
A video produced by Ally for the Dealer Hero program showcases this charitable endeavor. (http://allydealerheroes.com/community)
"The contributions auto dealers make to their local communities each year is inspiring, and we are proud to work so closely with high-caliber business leaders like Judith, who are also generous individuals with a commitment to giving back," said Tim Russi, president of Auto Finance for Ally.
Funds raised by Give the Kids Hope Foundation have gone to improving the facilities at Camp Hope and to supporting many of its recreational and educational programs.
Through Schumacher-Tilton's efforts, New York Jets football player, David Harris, has become interested in the foundation and its work. He has given of his time and support to help raise awareness. To date, on behalf of Give the Kid's Hope foundation, Harris has donated more than $40,000 in Reebok sneakers to campers who needed shoes. The foundation also runs a charitable golf outing each year that is supported by Harris, his teammates and other NFL players.
Schumacher-Tilton started the foundation in 2009 with her oldest son, Stephen, after he had come through a life-threatening medical crisis. "We were so thankful that his life was spared and we wanted to find a way to give back to others who were most in need. Give the Kids Hope Foundation gives us a chance to support underprivileged children who live right in our own neighborhoods in New Jersey." She went on to say, "We are delighted that so much good has come out of the foundation and being recognized as an Ally Dealer Hero is not only personally gratifying but it will help us continue our work through the visibility it has provided us."
Give the Kids Hope Foundation, Inc., has plans to build a regulation size basketball court at Camp Hope in 2014 in time for the next summer session. To learn more about the foundation or to get involved, visit http://www.GiveTheKidsHope.org.
A History of Recognition in Business and in the Community
Schumacher-Tilton is the president of Tilton Automotive Group, which is the parent company of two of northern New Jersey's largest-volume Chevrolet dealerships: Schumacher Chevrolet in Little Falls and Gearhart Chevrolet in Denville. Gearhart Chevrolet was recently chosen by GM's Chevrolet Motor Division to represent New Jersey for Pictures of Hope, a nationwide program founded by photojournalist Linda Solomon and sponsored by Chevrolet, to provide hope and funds to help children from local shelters through an innovative photography program (http://bit.ly/1hzrg09).
In addition to being an Ally Dealer Hero, Schumacher-Tilton was the 2012 Northeast Regional TIME Dealer of the Year, a program co-sponsored by Ally. She was the first female auto dealer from New Jersey to ever be nominated by her peers for the prestigious award. She has also received GM's Genuine Leader Award, the Spirit of Leadership Award from the Women's Automotive Association, and GM's Women's Retail Network Performance Award for the Northeast region (2009 and 2011).
For the past three years, the Tilton Automotive Group was honored with the Women's Choice Award by Women Certified for outstanding female-friendly service at the company's two Chevrolet dealerships. In October 2013, Tilton Automotive Group was recognized at the 21st annual New Jersey Family Business of the Year awards and Schumacher-Tilton was also named by New Jersey Monthly magazine as one of the top 25 New Jersey Leading Women Entrepreneurs. She has received numerous civic and association awards over the years in acknowledgment of her community service, charitable work, and as a role model for female entrepreneurs. She also serves as Chairperson for the General Motors Women's Dealer Advisory Council.
Of her recent award and her dedication to community service, Schumacher-Tilton said, "There is a hero inside all of us. We just need to let that hero out."
About Tilton Automotive Group
Tilton Automotive Group owns and operates Schumacher Chevrolet at 8 Main Street in Little Falls and Gearhart Chevrolet at 281 Route 46 East in Denville, both in New Jersey. Schumacher Chevrolet, founded in 1932 is one of the highest volume Chevrolet dealerships in the state; Gearhart Chevrolet, founded in 1929 is northwest Jersey's highest volume Chevrolet dealer. At the helm of Tilton Automotive Group are President and Dealer Principal Judith Schumacher-Tilton and her son, CFO Stephen Tilton, Jr. Tilton Automotive Group's foundation, Give the Kids Hope, (GiveTheKidsHope(dot)org) is a 501C3 non-profit organization dedicated to helping underprivileged children in northern New Jersey.