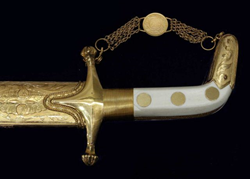 Austin, Texas (PRWEB) April 23, 2014
Austin Auction Gallery will offer a high karat gold mounted Saudi Arabian sword from the private collection of the winningest coach in University of Texas history, Darrell K Royal (1924-2012), at their May 3rd auction. The sword scabbard is inscribed with the signature of Ahmad bin Ebrahim Badr (Makkah, Saudi Arabia,1920-2009), the noted Arabian goldsmith commissioned by the King of Saudi Arabia to recreate the solid gold doors to the Kaaba in Mecca. Also to be offered at this unprecedented sale is an extraordinary sterling silver tea and coffee service from Baseball Hall of Fame pitcher Christy Mathewson (1880-1925).
The sword was presented in the early 1980's to the Coach and Mrs. Royal by Dr. Nasser Al-Rashid, University of Texas Ph.D. graduate, founder of Rashid Engineering and advisor to the Saudi Arabia Royal Family. The opulent gold scabbard is engraved with the emblem of Saudi Arabia and finely foliated vines. The steel blade of the sword is marked on the spine "Made in England 1782." Saudi Arabia one guinea coins are suspended from gold chains on both scabbard and hilt. The whole ensemble is in a custom presentation case and is accompanied by a hand written descriptive letter from Dr. Al-Rashid. It carries a conservative estimate of $25,000-$35,000. The sword has been stored in a museum vault at the University of Texas at Austin campus for 27 years and has never been publicly displayed.
The sterling silver tea and coffee service is in the "Plymouth" pattern by Reed and Barton. The tray is engraved ''Presented to Christy 'Matthewson' by his New York Friends, May 12th 1917". On that day the Cincinnati Reds played the New York Giants. Mathewson, one of baseball's all-time greatest pitchers, played 17 seasons with the New York Giants before becoming player/manager for the Cincinnati Reds in 1916. Mathewson was one of the initial inductees into the Baseball Hall of Fame in 1936. The seven-piece set carries a presale estimate of $12,000 to $18,000. It was discovered among a collection of silver from the estate of American painter Michael Frary (1918-2005), a relation to Mathewson by marriage, and whose name is well-known among art circles in Austin.
The items are being offered as part of their May 3rd Estates Auction which includes an unusual French ormolu-mounted cylinder roll desk from the estate of Texas Supreme Court Justice Leroy Gilbert Denman (1855-1916). For more information, visit Austin Auction Gallery website at http://www.austinauction.com or call 512-258-5479. Ross Featherston, #8069. There is an 18% gallery premium and 21% online premium. The live auction will be held at 8414 Anderson Mill Road, Austin, TX, 78729. Online, absentee and telephone bidding are available.