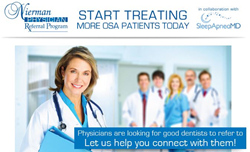 One of the biggest hurdles facing Dental Sleep Medicine Specialists is having the time to build their local physician referral networks.
Tequesta. FL (PRWEB) September 24, 2014
Both organizations are dedicated to helping dental practices implement and grow through offering Oral Appliance Therapy (OAT), for patients suffering from sleep apnea. One of the biggest hurdles facing Dental Sleep Medicine Specialists is having the time to build their local physician referral networks. Opening up these lines of communication is vital to ensure patients receive proper diagnosis and a treatment that they will be compliant with.
Currently out of the estimated 18 million Americans who are suffering from OSA, less than 5% have actually been diagnosed. What is even more disturbing is that more than half of those patients who have been diagnosed and have been prescribed PAP therapy have ditched or opted out of treatment altogether. Oral appliance therapy (OAT) for OSA has been around for decades and is considered a first line treatment for mild to moderate OSA patients, but this has not yet become main stream in the medical community. Within the initial trials of this program the response has been great, most offices are seeing multiple referring physicians calling back within the first few weeks. These have led to successful referral networks, which has resulted in more patients being treated.
When asked about working with NPM on this new service, Spencer Freiman, President of Sleep Apnea MD had this to say: "Our team is excited to be collaborating with NPM, combining the experience and expertise of both companies allows us to deliver a quality, unique service to the Dental Sleep Medicine community. We know from vast experience in working with sleep dentists that building a solid referral network is the key to success in the Dental Sleep Medicine industry."
Dentists who are interested in building their referral networks to increase their OSA cases need to call NPM today to secure their territory, the program has already shown major success during the initial trials.
About Sleep Apnea MD
Sleep Apnea MD is the only marketing company exclusive to helping Dental Sleep Medicine professionals. We offer marketing solutions that can help dentists treating sleep apnea increase their base of physicians referring sleep referral patients. We also help dentists to re-brand for Dental Sleep with custom websites and internet marketing services.
About Nierman Practice Management:
Celebrating their 25th anniversary in 2013, Nierman Practice Management has paved the way for dentists billing medical insurance. Dental practices that have chosen Nierman Practice Management's DentalWriter software have collected more medical insurance reimbursement for dental office procedures than any other group.