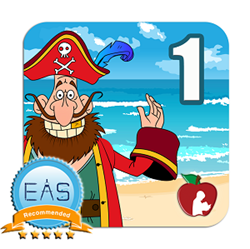 It has to be one of the most comprehensive workbook-style apps for teaching kids how to read and write.
Beaumont, CA (PRWEB) April 24, 2014
Thanks to a growing number of pleased customers ranging from parents and caregivers to tutors and teachers, Red Apple Reading is growing the appeal and successes of its program and apps across the nation.
Now, Red Apple Reading has made a mark with its delightful and beneficial reading skills program for students ages 6 to 9 "across the pond," fresh off a two-week feature, official certification and a slew of positive reviews from the UK-based Educational App Store.
Educational App Store(EAS) specializes in reviewing and certifying educational apps for Android, Windows and iOS devices, evaluating programs based on their curriculum and outcomes. The EAS site has a "featured app" venue, where specific apps are given the spotlight. In mid-March, Red Apple Reading was included in the EAS spotlight, and the results were a resounding "thumbs up": EAS gave Red Apple Reading its "5-Star" rating and official certification as an "EAS Recommended App."
EAS site reviewers—a combination of teachers, parents, and app participants—passed along similarly high marks to Red Apple Reading.
"It has to be one of the most comprehensive workbook-style apps for teaching kids how to read and write," one reviewer on the site said. "The teaching and learning is all done in a very fun way, and kids will absolutely adore the illustrations and characters that they encounter."
Other, similarly-positive reviews gave Red Apple Reading high marks for its interactive nature, engaging characters, engagement, and comprehensive progress-tracking tools.
Tammy Bennecke, president and founder of Red Apple Reading, notes that with the recent addition of expanded membership access to include both the online program and apps, the tech-tuned sounds of praise could not have come at a better time.
"The high marks from EAS and its site reviewers was timed well with the release of our members-only apps in iTunes at the end of March," Bennecke said. "Now, when members purchase the online program, they get free access to apps so their children can learn both at home and on-the-go."
In the meantime, Red Apple Reading continues to build on its engaging, interactive character showcasing. This month, Red Apple Reading users have been introduced to "Pete Pirate," the official mascot of the "Island Adventures" program. "Pete is fresh off the high seas and ready to add some 'aargh!' to Red Apple Reading," Bennecke said.
Read the full EAS site review for Red Apple Reading here. To learn more about Red Apple Reading's current membership offerings, programs, and access options, visit: http://www.redapplereading.com/pricing.
About Red Apple Reading:
Red Apple Reading was founded in 2011 by educator Tammy Bennecke. With the aim of fulfilling their motto of being "a small company with a big heart," Red Apple Reading is in the process of developing a full range of pre-kindergarten through third grade reading products. Find out more about Red Apple Reading at http://www.RedAppleReading.com.