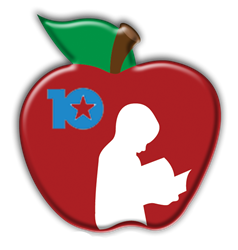 Red Apple Reading was lauded as 'colorful and well-designed' and commended for its easy-to-follow levels for little language learners.
San Luis Obispo, CA (PRWEB) October 27, 2014
October has been an exciting month for the team at Red Apple Reading, an online software program aimed at helping Pre-K through third grade students learn—and retain—valuable reading skills. Red Apple Reading's most recent kudos fell under Top Ten Reviews' category "Learning to Read Software," and included both the "Bronze" and "Excellence" awards for the 2015 round.
Tammy Bennecke, founder and President of Red Apple Reading, notes that Sharyl Minter-DeJesus, a product coordinator with Top Ten, contacted the company earlier this month, notifying Bennecke of Red Apple Reading's selection for review, and explaining the site's purpose—a dedication to supplying consumers with a range of unbiased, comprehensive reviews on a range of tech-oriented products (everything from robot vacuum cleaners to credit cards).
Bennecke was both excited and anxious for the reviews, as Top Ten uses an expansive arsenal of review categories—even a specific evaluation methodology unique to the Top Ten site.
"We [utilize] hands-on knowledge instead of relying on specifications and research alone," Minter-DeJesus explained.
But Bennecke's nerves needn't have been frazzled for a moment. Besides their Bronze and Excellence awards, Red Apple Reading was also featured in two reviews published on the Top Ten site. In the first, Red Apple Reading was lauded as "colorful and well-designed" and commended for its easy-to-follow levels for little language learners.
In the second review, Red Apple Reading was ranked on a wide range of offerings and characteristics, from teaching tools and research to parent/teacher usability and support access. The program stood its ground against eight other similar programs, receiving a 9.5 out of 10 ranking.
With their position secure for 2015, Red Apple Reading might be tempted to rest on their Top Ten laurels. But not Bennecke. She's got her eyes on the golden apple—rising above the current Bronze ranking and rising from a 9.5 to a 10 in 2016.
"We're already using the Top Ten feedback to figure out areas for improvement for the number one spot next year," Bennecke said. "But our real goal right now is to use the critique from Top Ten to ultimately make Red Apple Reading the best experience possible for all users."
More information on the Top Ten Awards Red Apple Reading received can be found on Red Apple Reading's Press, Awards and Reviews page. Information is still available on the Top Ten Reviews site regarding Red Apple Reading's overall review as well as its comprehensive competitive ranking.
About Red Apple Reading:
Red Apple Reading was founded in 2011 by educator Tammy Bennecke. With the aim of fulfilling their motto of being "a small company with a big heart," Red Apple Reading is in the process of developing a full range of pre-kindergarten through third grade reading products. Find out more about Red Apple Reading at http://www.RedAppleReading.com.