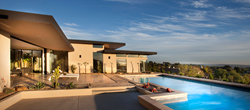 Tourgoers can get the inside scoop from homeowners on what it's like to live in a modern home, and talk to the architects to find out where they got their inspiration.
San Diego, CA (PRWEB) August 26, 2014
Modern Home Tours LLC is returning to San Diego, California, during their 2014 Fall Tour, which includes stops in Texas, California, Colorado, New Mexico and Canada. During the 2014 San Diego Modern Home Tour, attendees will have the opportunity to explore five to seven modern homes in the San Diego area that exemplify modern architecture and living. Tourgoers can get the inside scoop from homeowners on what it's like to live in a modern home, and talk to the architects to find out where they got their inspiration. This is every San Diego resident's chance to see the inside of 'that unique, cool house you always drive by…'
The San Diego Architectural Foundation has been named the tour's local non-profit beneficiary for this second tour in San Diego. They will help staff the event, in return for a small donation and the opportunity to use the tour as a fundraising vehicle to further their mission of educating and promoting the outstanding architecture, planning and urban design throughout the San Diego region.
Eight of the area's most amazing modern homes have been confirmed for the 2014 San Diego Modern Home Tour. Participating architects and featured locations include:

A home near Presidio Park, designed and built by Safdie Rabines Architects in 2004, and then updated in 2012. The three-story home features views of the San Diego Bay, a two-story living room, 35-foot long light-filled atrium, guest house, pool, rooftop deck (with fire-pit) and custom furnishings throughout.
The Shayan House, located in San Diego's architecturally diverse Mission Hills neighborhood, was built by Nakhshab Development and Design in 2012 to ensure efficiency and sustainability as well as the comfort of its occupants, who range from 2 to 64 years old. The home sits on a steeply sloped canyon lot and features 13-foot high floor-to-ceiling windows showcaing stunning canyon and city views, and is also the first LEED Certified Gold single family home in the city of San Diego.
Local architect Heather Johnston AIA has offered her La Jolla residence for the tour. This amazing home was completed in just over 8 months, thanks to the streamlined production of all house parts – modules – and foundations concurrently in two different factory locations; it took just 48 hours for the pieces to be craned together, and then another 4 months for local craftsmen to apply the finishing touches by turning a collection of individual pieces into a personalized, energy-efficient home.
The newly completed Union 4 is a four unit development located in San Diego's Bankers Hill that beautifully unifies a restored and updated historic home with the addition of three modern loft units. Designed by Nakhshab Development and Design in 2913, the home was built to be green, virtually non-reliant upon public energy sources, and respectful of an historic setting, while appealing to all three generations of the inhabiting family.
A very unique home in Del Mar, completed by Cheng Design, that derives inspiration from Airstream trailers and Quonset huts. The design pits hard-edged industrial materials (concrete block, galvanized siding, steel columns, stainless steel cable and welded I-beams) against softer residential elements (stained-wood siding and a grid of exposed wood framing that supports the roof) and custom interior details (polished concrete floors, stainless steel kitchen hood, custom made concrete countertops and walls).
A third home by Nakhshab Development & Design, just completed this year and located in historic Golden Hill, are the Sofia Lofts. The "community within a community" combines a Mid-Century Modern aesthetic and a generous helping of historic charm, while featuring many "green," passive design elements such as high-density floors, floor-to-ceiling glass that floods units with natural light, windows placed for optimum natural ventilation, high-efficiency Energy Star appliances, low-usage lighting and low-flow water designs.
A second Safdie Rabines Architects home, located in La Jolla, and nicknamed Casa Diagonal. This custom home is perched on a steep hillside, and incorporates diagonally constructed structures to create indoor/outdoor terraces on each level with panoramic views of the Pacific Ocean.
A sprawling 3,000 square foot home in Encinitas is Nakhshab Development and Design's fourth and final home on this year's tour. The home is LEED Gold Certified and loaded with green elements; it also features twenty feet of retractable glass doors that connect indoor entertaining spaces with notable outdoor features like a kitchen and bar, and a spacious swimming pool surrounded by a seductively comfortable lounge area.
Participating homes in the 2014 San Diego Modern Home Tour will open their doors for viewing from 11AM – 5PM on Saturday, September 27th, in the San Diego, California, area. All are invited to attend. Tickets for the tour are $30 in advance online; $40 on the day of the tour. Kids under 12 are FREE when accompanying their parents.
For more details, to see a current roster of homes with details and photos, and to buy tickets for the San Diego Modern Home Tour, visit: http://modernhometours.com/sept-27-2014-san-diego-modern-home-tour.
About Modern Home Tours, LLC: Based in Austin, Texas, Modern Home Tours, LLC was founded by partners Matt Swinney & James Leasure in 2010 to introduce modern architecture and living to people across the nation. Through fun and informative tours in dozens of cities across the USA and Canada, the group invites people into some of the most exciting examples of modern architecture and design in the nation. With carefully selected architects, neighborhoods and architecture, the Modern Home Tours are unlike anything you've ever seen. Not only will you learn about the cutting edge of home design while on our tours, but you might even get an idea or two for your next home project!