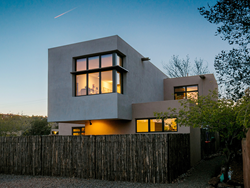 Santa Fe, New Mexico (PRWEB) October 16, 2014
The third annual Santa Fe Modern Home Tour will take place this weekend, Saturday, October 18th. The tour is one of the final stops on the Modern Home Tour 2014 Fall Run, which included visits to Texas, California, Colorado, New Mexico and Canada. Throughout the day, tourgoers will have the rare opportunity to explore six amazing private residences in northern New Mexico. Attendees will learn from homeowners what it's like to live in a modern home and find out where the architects got their inspiration - directly from the source. The tour is self-guided and self-driven, allowing guests to explore these modern treasures at their own pace.
Properties featured on this year's Santa Fe Modern Home Tour include:

A home designed by Jon Dick of Archaeo Architects, located in the Galisteo Basin Preserve, that features a pinwheel design wherein the central core contains the primary rooms. The home provides protection from the predominantly northwest winter winds, while showcasing a number of excellent views to the distant horizon in the other directions, views which are gradually and generously revealed only after one has entered the house.
A home in the Las Lomas subdivision, designed by Steve Oles of Interface Architects, that offers spectacular eastward views of the City and Sangre de Cristo mountains, which are celebrated by two large, pocketed glass sliders protected by a generous semi-circular covered portal. The home has been certified as a LEED Silver home and features super-insulated walls and ceilings, operable windows, clerestories and skylights, Energy Star appliances, water restrictive devices, a heat recovery ventilator, a 4,500 gallon sub-grade cistern fed by roof storm-water, and a 3.2 Kw array of rooftop PV solar panels.
A home designed by Vahid Mojarrab at WAMO Studio that is a shining example of sustainable, contemporary and forward-thinking design, and uses the Passive House approach for energy conservation and to achieve site-zero energy consumption. Despite the small size of the residence, the design succeeds in bringing the landscaping deep into the home, introducing a noticeably airy feel, reinforced by beautiful views from every room.
A second home by Jon Dick of Archaeo Architects, located in the hills of the Sangre de Cristo Mountains, that welcomes natural light into the home in unexpected ways, dramatically washing walls with direct sun during key times of the day, while at other times transforming light to a subtle glow. Due to the steep and narrow landscape, the house is kept as close to one level as possible, resulting in an anchoring into the landscape on the back side, countered with elevated portals on the front that accentuates the broad view across the Rio Grande valley to the Jemez Mountains.
A home perched on one of the highest lots in Sierra del Norte, custom built by the renowned Zeckendorf developers and local designer Greg Teakle in 2006, that features clean lines, expansive spaces and panoramic vistas courtesy of large exposures in the primary entertainment areas. This home is currently for sale and being sponsored by Barker Realty Inc.
A green and very modern home, dubbed the Rothstein-Meckler house and located on the west side of town, that was designed by Gabriel Browne of Praxis Design Build and is certified LEED Platinum home puts the pieces together to fit a uniquely artistic program into an equally unique community.
Friends of Architecture Santa Fe has been selected as the benefiting non-profit partner for the 2014 Santa Fe Modern Home Tour. They, along with the American Institute of Architects (AIA) Santa Fe chapter, will help staff the event in exchange for a donation and opportunity to use the tour as a fundraising vehicle. The tour is being held in association with the AIA Western Mountain Region Conference 2014.
Santa Fe Modern Home on Pacheco Street in Santa Fe is a sponsor of this year's tour. The retail location is Santa Fe's premier shop for contemporary home furnishings, table art, jewelry; the showroom features noted artists and craftspeople that bring clean, minimal lines to southwestern environments.
Participating homes in the 2014 Santa Fe Modern Home Tour will open their doors for viewing from 11AM – 5PM on Saturday, October 18th, in the Santa Fe, New Mexico area. All are invited to attend. Kids under 12 are free (when accompanying their parents). Tickets for each tour are $30 in advance online; $40 on the day of the tour. For more details on the Santa Fe Modern Home Tour and how to buy tickets, visit http://modernhometours.com/event/santafe-2.
About Modern Home Tours, LLC: Based in Austin, Texas, Modern Home Tours, LLC was founded by partners Matt Swinney & James Leasure in 2010 to introduce modern architecture and living to people across the nation. Through fun and informative tours in dozens of cities across the USA and Canada, the group invites people into some of the most exciting examples of modern architecture and design in the nation. With carefully selected architects, neighborhoods and architecture, the Modern Home Tours are unlike anything you've ever seen. Not only will you learn about the cutting edge of home design while on our tours, but you might even get an idea or two for your next home project!