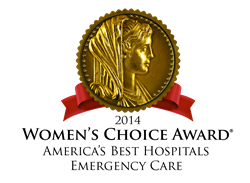 'Palo Pinto General Hospital is here to serve the community, and we are proud that we can provide the very best quality care and customer service to the citizens of Palo Pinto County.' - Harris Brooks, CEO
Mineral Wells, TX (PRWEB) June 21, 2014
Palo Pinto General Hospital has been named a recipient of the Women's Choice Award as one of America's Best Hospitals in Emergency Care. Each year, there are more than 125 million emergency room visits in the U.S., with about a fifth of them being children under the age of 15. Emergency departments continue to be an essential part of the healthcare system as they provide fast, life-or-limb saving care to millions each year.
The Women's Choice Award is the only distinction that identifies the nation's best healthcare institutions and signifies Palo Pinto General Hospital's commitment and passion for creating an extraordinary healthcare experience for women and all patients. The Women's Choice Award is also the lone recognition program that measures against the needs and preferences of women. Of the seven core measures reported by emergency departments to the Centers for Medicare and Medicaid Services (CMS), women rate "door to diagnostic time" or in other words, "door to doctor," as the most important criteria when selecting an emergency room. The least important reported measure is the total time before leaving the emergency room.
"The award is based on robust criteria that consider patient satisfaction, clinical excellence and what women really want when it comes to treatment and a quality hospital experience," says Delia Passi, CEO & founder of WomenCertified, home of the Women's Choice Award. "Palo Pinto General Hospital not only performed well clinically with regard to emergency care measures, but they also have a high recommendation rating, which is very important to women when it comes to health related decisions."
Hospitals earning the Emergency Care Award consistently rank in the top 25 percent of the 3,600 hospitals reporting on their emergency department's performance to the CMS. The seven measures CMS publicly reports relate primarily to the amount of time taken in the ER such as time for diagnosis, medication, and admission to the hospital, and are weighted according to the priorities of women surveyed. A hospital can be eliminated from the award if they fall outside the 25th percentile for two or more of the seven measures, depending on their importance. The award is also limited to those hospitals with a solid recommendation on Hospital Consumer Assessment of Healthcare Providers and Systems.
"It is a great honor to have the Palo Pinto General Hospital Emergency Department receive this award. Palo Pinto General Hospital is here to serve the community, and we are proud that we can provide the very best quality care and customer service to the citizens of Palo Pinto County," says Harris Brooks, CEO of Palo Pinto General Hospital.
As the collective voice of female consumers, the Women's Choice Award provides women with recommendations they can trust, from other women.
"Our mission is to reduce the risk for women and their families so they can make smarter healthcare choices," added Passi. "We have found that recommendations are the single most important consideration used by women in selecting a hospital for themselves and their family. By helping women know which hospitals in their area provide the best critical care, we are able to help them make better decisions, especially when it comes to emergency situations."
About Palo Pinto General Hospital
Palo Pinto General Hospital is a 74 bed rural acute care hospital governed by elected Board of Trustees. Our mission is to promote optimal healthcare of the entire community by providing customer centered, quality healthcare in a respectful and safe environment. The Emergency Department at PPGH serves 21,000 patients annually, ensuring timely patient attention and care. PPGH provides 24 hour support to the community, 365 days a year. For more information visit http://www.ppgh.com.
About the Women's Choice Award
The Women's Choice Award sets the standard for helping women make smarter choices by collectively identifying the brands, products, and services most recommended and trusted by women - those that deliver a customer experience worthy of their recommendation. Awards are based on surveys of thousands of women, as well as research conducted in partnership with the Wharton School of the University of Pennsylvania on what drives the consumer experience for women versus men. As the leading advocate for female consumers, WomenCertified Inc., home of the Women's Choice Award, created the first national award based on the ratings and preferences of women to provide them with a collective voice. Women can make their preferences heard and be part of the mission toward a million voices strong by visiting the Women's Choice Award's official website and joining the network.