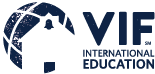 Dave provides us a kindred spirit in scaling global learning to all students, not just the lucky few.
Chapel Hill, N.C. (PRWEB) April 10, 2015
VIF International Education, the leading provider of global education programs for K-12 schools, announced Friday that David Potter has joined the organization as its development director to manage and build partnerships and grow VIF's presence in schools, districts and states around the country.
"Dave provides us a kindred spirit in scaling global learning to all students, not just the lucky few," said VIF CEO David Young. "His many years of work with iEARN mirror our passion for cultural understanding, international ​exchange, global experiential learning, project-based learning and integrating global education into K-12 schools."
Potter comes to VIF with 20 years of international education experience and expertise in forging mutually beneficial partnerships that serve local communities and the global good. His recent accomplishments include raising more than $40 million in government and foundation grants while helping iEARN to expand from 65 countries to 140 countries.
"I'm thrilled to join the team. I'm a long-time admirer of VIF and its leadership in North Carolina, our first global-ready state," said Potter. "Through its unique and comprehensive offerings in language immersion, international teacher recruitment and placement, and leading-edge online professional development and curriculum, VIF has proven it is the place for all educators to start on their paths to global readiness."
###
About VIF International Education
VIF International Education builds global education programs that prepare students for success in an interconnected world. For more than 25 years, educators have leveraged VIF's professional development and curriculum, language acquisition and teacher exchange programs to generate engaging learning environments where students can excel in core curriculum as well as develop valuable critical and creative thinking skills. A certified B Corp and 'Best for the World' honoree headquartered in Chapel Hill, N.C., VIF provides a pathway for teachers, schools and districts to become globally designated.
Tags: global-ready, global competence, global awareness, global schools, global education, international education, professional development, curriculum, K-12, e-learning, social learning platforms, professional learning networks, online learning environments, teachers, student achievement, 21st century skills, edtech, education technology, project-based learning, lesson plans, teacher resources, business development, advocacy, partnerships