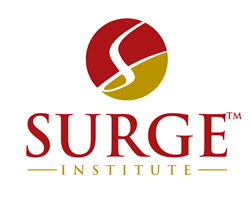 "We are expecting the 2015-2016 Fellowship Program to have an even greater impact on Chicago by funneling more prepared elite talent of color into the leadership pipeline where their presence is sorely missed and desperately needed."
Chicago, Illinois (PRWEB) September 09, 2015
Today, The Surge Institute, a Chicago-based education leadership accelerator founded in 2014 in response to a dearth of leadership of color at the decision-making tables within education, announces the thirteen (13) individuals awarded the opportunity to participate in the 2015-2016 Surge Fellowship cohort. The 2015-2016 Surge Fellows are the second cohort of emerging leaders of color that Surge Institute will prepare, support and connect in order to accelerate their growth as trailblazers within education.
The Surge Fellowship, Surge Institute's signature program, identifies high-capacity African-American and Latino leaders in education and provides them with leadership development and access to networks and visibility, empowering them to bring new ideas, perspectives, and solutions that change the landscape of education. The Fellowship's 2015 Inaugural Cohort, which concludes on September 26, 2015, was an overwhelming success. The inaugural cohort piloted Surge Fellowship's rigorous 12-month leadership development program that will be delivered to the 2015-2016 Cohort and beyond.
"My position at UEI has the potential to get substantially more Chicago students to and through college. Being a Fellow has given me cultural insights, enhanced my understanding of the overall education landscape, taught me valuable leadership skills and allowed me to build stronger networks - all tools I need to transform potential opportunity into reality," opines 2015 Surge Fellow Grisel Maldonado, UChicago Impact's Director of College Success at the University of Chicago Urban Education Institute.
A host of exceptional candidates applied for the fellowship, inspired by the promise to develop skills, networks, and tools, and receive the support necessary to deepen their impact. The diverse cohort is comprised of African-American and Latino men and women from the Chicago Public Schools, high-performing charter schools and networks, non-profit advocacy agencies and higher education. "We are expecting the 2015-2016 Fellowship Program to have an even greater impact on Chicago by funneling more prepared elite talent of color into the leadership pipeline where their presence is sorely missed and desperately needed," says Kaya Henderson, Surge board member and Chancellor of DC Public Schools.
"Each applicant had a highly impressive background and passion for education – selecting the best of the best was a formidable task for us. Ultimately the signature elements of candidates selected for the 2015-2016 Fellowship include: unbridled passion for better serving Chicago youth; deep connection to the communities in which they serve; and evidence of a readiness to immediately use the Surge experience to have tremendous impact on urban education in Chicago," shares Carmita Vaughan, Founder and President of The Surge Institute.
2016 Surge Fellowship Awardees

Nicole Beechum: Doctoral Candidate and Research Assistant, University of Chicago
Michelle Bess: Talent Recruitment Manager, OneGoal
Elisa Botelllo: Director, New School Development, Office of Innovation and Incubation, CPS
Christopher Goins: Founding Principal, Butler College Prep
Ceddrick Hunter: Assistant Dean of Culture, Johnson College Prep
Michael Johns: Director of Mentors, Volunteers and Interns, Chicago Scholars
Ariel Johnson: Legislative Affairs Manager, The Illinois Network of Charter Schools
Khadeejah Lasuc: Program Manager, Center for College Access and Success, NEIU
Nche Onyema: Manager of External Affairs and Engagement, OneGoal
Bianca Paiz: Director of Alumni Counseling, Rauner College Prep
Marilyn Rhames: Manager of Alumni Relations, Namaste Charter School
TaMikka Sykes: Founding Principal, LEARN Charter School
Erica Thompson: High School Success Program Manager, LINK Unlimited Scholars
About Surge
The Surge Institute broadly addresses issues of race and class in urban education through leadership development, technical assistance and advocacy. The Surge Fellowship develops high-potential talent within education to create the pipeline of influential education leaders of color. This network transforms status quo systems and approaches in education by sharing ownership of the change efforts, engaging communities in defining and working toward success, serving as role models for young people to pursue roles with influence and risk, and accessing financial capital and power brokers to develop new solutions. For more information on Surge Institute or Surge Fellowship, visit surgeinstitute.org
###