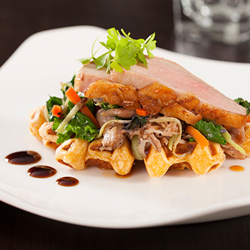 Duck is a natural fit for today's global cooking culture as demonstrated by the many ethnic influences in this year's winning recipes.
LEESBURG, IND. (PRWEB) October 23, 2015
Move over home-style "Chicken and Waffles." Contemporary, Asian-inspired "Duck & Waffle" dishes have claimed the top two prizes in the Maple Leaf Farms 2015 Discover Duck Chef Recipe Contest.
Pear & Ginger Tea Duck Breast on Sweet Potato Waffle with Duck Confit Slaw captured the grand prize in the professional chef division, earning Executive Chef Jacques Wilson of El Camino Hospital in Mountain View, California, $10,000. In the student chef division, Smoked Duck with Five Spice Waffles and Hibiscus Syrup, claimed top honors. For his creation, student chef Christopher Dodson from El Paso Community College in El Paso, Texas, was awarded $2,500. Additionally, El Paso Community College will receive Maple Leaf Farms duck products valued at $1,000.
This year's focus was "Duck Redefined," and encouraged participants to create a dish featuring duck as the main ingredient in a non-traditional way. "Our contest encourages chefs to think outside the box beyond just roasted whole duck or a sautéed duck breast," said Maple Leaf Farms Director of Duck Marketing Cindy Turk. "Duck is such a versatile protein, the possibilities are endless."
Creativity and innovation abound among entries. Chef Martin Rios of Restaurant Martin in Sante Fe, New Mexico, captured second place among chefs with his Jerk Confit Sandwich with Garlic Mayonnaise & Cabbage Salad. Other award winning recipes in the professional chef division include Duck Al Pastor Tacos created by Senior Corporate Chef Eric Stein of Newly Weds Foods in Chicago; Pulled Duck & Membrillo Croquettes by Executive Corporate Chef Michael Brunson of Tapeo Restaurant & Tapas Bar in Boston, and Maple Leaf Farms Duck Confit Scotch Eggs by Executive Chef Barry Greenberg of the University of Iowa in Iowa City, Iowa.
Recipes were judged on flavor and creativity, as well as accuracy and method. "Duck is a natural fit for today's global cooking culture as demonstrated by the many ethnic influences in this year's winning recipes," said Turk.
Four additional student chefs each received $500 as finalists and include Juliana Rezende from Le Cordon Bleu in Los Angeles for Maple Leaf Farms Duck Sushi with Duck Chicherones, Citrus Gastrique & Asian Caviar; Joyce Mac from Le Cordon Bleu, Chicago, with Duck Bacon Delight; Jill Sonlin from The Culinary Arts Institute at MCCC in Doylestown, Pennsylvania, for Grilled Duck Burger with Blueberry Plum Coulis, Smoked Gouda and Arugula, and Victoria Moran from College of Lake County in Gurnee, Illinois, who created Spicy Mango Duck Satay with Peanut Sauce & Microgreen Salad.
Prize winning recipes and photos may be viewed on the contest web pages at http://www.mapleleaffarms.com/chefcontest/.
About Maple Leaf Farms:
Maple Leaf Farms, Inc. is America's leading producer of quality duck products, supplying retail and foodservice markets throughout the world with innovative, value-added foods. Founded in 1958, Maple Leaf Farms is a fourth generation, family-owned company. For more information, contact Maple Leaf Farms at 1-800-348-2812 or visit http://www.mapleleaffarms.com.