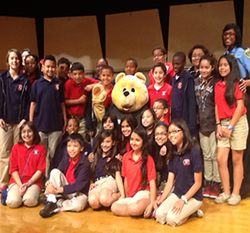 The statistics of school grade children who have taken their own lives due to being bullied is beyond heartbreaking, I was shocked to hear this is a lamentable reality which affects us all in today's world.
Friendswood, TX (PRWEB) June 01, 2015
With a new community program in the Friendswood area, Al Hicks Agency has teamed up with I'm Bully Free, and announced a new charity campaign to raise funds to support their mission of raising awareness of the significant and lifelong impact bullying can have on a child. I'm Bully Free is dedicated to creating a safe and secure environment by offering different classes to all the parties affected by bulling with the purpose on educating them on how to deal with this delicate situation and how to prevent it in the future. Al Hicks Agency is starting this campaign to help I'm Bully Free so they may continue providing classes focusing on topics such as anti-bulling awareness, suicide awareness, and dating violence awareness to help the youth of their community. Donations to the organization can now be made through the campaign's page at http://www.alhicksagency.com/Keep-Our-Community-Bully-Free_15_community_cause.
Utilizing its own resources and seeking the help of its own network of customers and business partners, Al Hicks Agency marches on to ensure customers, friends, family and neighbors are always in good hands. The agency recently launched the master charity program of which the current campaign is part of, electing every 30-60 days a new individual, organization or family in need of receiving support.
The agency will promote the current campaign over the course of the next 30-60 days, through its social media channels, email and text message communications, as well as through a monthly magazine, delivered to thousands of households in Texas, where the agency currently operates. Our Hometown magazine reserves a full page to feature the campaign and details of the cause. The electronic Flipbook version of the current issue can be accessed here: http://www.alhicksagency.com/Our-Hometown-Magazine_41
To join Al Hicks Agency in supporting I'm Bully Free, donors are encouraged to visit http://www.alhicksagency.com/Keep-Our-Community-Bully-Free_15_community_cause, and also share the page with friends and family. Contributors may be acknowledged for their donations through the agency's monthly magazine.
Once the current campaign is over, Al Hicks Agency will continue to work closely I'm Bully Free and other nonprofit organizations in the area to make sure resources are directed to capable hands that can help better the local community, one family or person at a time. Information regarding past and current campaigns supported by the Agency can be found at http://www.alhicksagency.com/community-cause, and more information about Al Hicks Agency is available at http://www.alhicksagency.com.
About Al Hicks Agency
Al Hicks Agency's mission as a team is to provide the best insurance and financial services in the industry. Their number one job is to protect the current assets their customers have worked so hard for, and to help them invest so they can retire with the right amount of money. Al Hicks Agency's success is measured by customer satisfaction and the value brought to their lives.