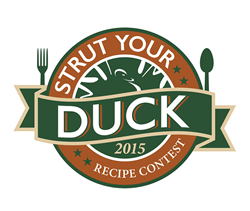 Leesburg, IN (PRWEB) June 19, 2015
Maple Leaf Farms is calling for entries for the 2015 "Strut Your Duck" Recipe Contest. The contest challenges entrants to create an original recipe that features Maple Leaf Farms duck products along with a photo showing the final prepared dish with the product package. Contest entry opens July 1, 2015 and ends on Aug. 31, 2015.
Recipe entries may be submitted for any menu part -- appetizer, soup, salad, entrée or even dessert -- and must include a Maple Leaf Farms duck product. Entrants may submit up to three recipes with accompanying photos. Contest submissions will be judged on the recipe and its preparation, originality and creativity of the recipe, visual appeal of the final prepared dish, and overall taste (Round II judging).
Entrants have a chance to win one of three top prizes. The grand prize winning entry will be awarded $5,000 and free Maple Leaf Farms duck products for a year; first runner-up $2,500; and second runner-up $1,000. The People's Choice Award winner will receive $250 based on public votes for favorite duck dish. (Voting will take place Sept. 13-19, 2015.)
The contest is open to cooking enthusiasts who are legal residents of the 50 United States or Washington, D.C. and are 18 years old or older.
Complete contest rules and entry details are available online at http://www.duckrecipecontest.com. Entries will be accepted July 1– Aug. 31, 2015 through the contest website.
About Maple Leaf Farms:
Maple Leaf Farms, Inc. is America's leading producer of quality duck products, supplying retail and foodservice markets throughout the world with innovative, value-added foods. Founded in 1958, Maple Leaf Farms is a fourth generation family-owned company. For more information, contact Maple Leaf Farms at 1-800-348-2812 or visit http://www.mapleleaffarms.com.
# # #