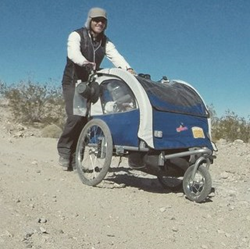 I've reached Blythe, CA! Walked 34 miles in 1 day just to have a hot shower. When I saw my hotel room I couldn't believe beds existed. Thank to Team Walk2Know!
Phoenix, AZ (PRWEB) February 07, 2015
Find out about GMOs, what's at stake for Arizona, and what it's like to walk across the desert
WHO: @Walk2Know Taylor Lancaster, Arizona State Representative Juan Mendez, Chef Sessy of FoodAlchemist™, #TeamWalk2Know and surprise guests!
WHAT: Taylor Lancaster started walking across America from the Santa Monica Pier on January 5, 2015, to raise awareness for GMO Labeling. He's crossed the Los Angeles basin on foot, crossed Palm Desert and on through the California and Arizona deserts. He'll be walking through Arizona from February 6th through February 17th. Join him for a spell if so inclined. He'd love the company!
Taylor will meet up in Phoenix with Rep. Juan Mendez, with local Food Freedom activists and celebrities to discuss GMO Labeling. Invited guests will enjoy "Stone Soup" made by Taylor, Rep. Juan Mendez, Chef Sessy of Food Alchemist™ and surprise guests.
Photo and interview opportunities will be available to the media during this event.
WHERE: Pomegranate Café
4025 E. Chandler Blvd., Suite 28
Phoenix, AZ, 85048
(480) 706-7472
WHEN: Tuesday, February 10, 2015, 11AM – 1PM
ABOUT TAYLOR LANCASTER & @WALK2KNOW: The Walk2Know is a transcontinental walk intended to cultivate discussions on genetically modified organisms (GMOs) and the need for labeling products that may contain them. Follow his adventure on his Tumblr blog, Facebook, Twitter and Instagram (links below). Support the walk (with occasional hotel rooms and showers, food and new socks when necessary), and thank you!
ABOUT STATE REPRESENTATIVE JUAN MENDEZ: Rep. Juan Mendez (D) is a first generation American, a native Arizonan, and an ASU graduate. Rep. Mendez is the Prime Sponsor of Arizona HB 2462, for Genetically Engineered Food Labeling.
ABOUT CHEF SESSY: Chef Sessy is the host of the nationally syndicated Food Alchemist™ and author of "It's Vegan and It Tastes Good!" As Founder and Head Chef of Veggies Be Come U, Chef Sessy helps clients manage their food allergies and improve their eating habits.
ABOUT POMEGRANATE CAFÉ: Pomegranate Café began as a shared dream between mother and daughter, Cassie and Marlene Tolman. Their vision was to create a space where delicious flavor and nutritious ingredients come together with extraordinary service in a unique, earth-conscious environment.
To learn more about the Walk2Know campaign, or to arrange an interview with Taylor Lancaster, please contact Nancy Black at nancy.black(at)worldbusiness(dot)org, (805) 569-1559. Images and video available.
Follow the adventure:
http://instagram.com/walk2know