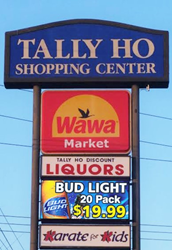 I am not a design expert, so it's great to be able to receive custom content that keeps our sign looking sharp.
Elkton, MD (PRWEB) January 14, 2015
Located in Wilmington, Delaware, Tally Ho Liquors has been providing top notch liquors at affordable prices for nearly two decades. Being situated in a shopping center on a busy street corner, Tally Ho Liquors wanted to display their products and competitive pricing, while standing out among their surrounding neighbors. They decided that upgrading their static sign to a full-color LED message center was the best way to achieve this.
Tally Ho Liquors turned to KC Sign and Awnings for this project, knowing that they could get the job done right. KC Sign recommended a sign manufactured by Vantage LED.
"We can always rely on Vantage to provide the highest quality signs in the industry," stated Joe Clark, of KC Sign and Awnings. "Their reliability as a manufacturer is a breath of fresh air in this industry. It's truly a relief to provide our customers with such a solid product that is backed by a solid warranty."
Previously, Tally Ho Liquors had a less than ideal experience with a cheaper LED sign from a different manufacturer. The sign malfunctioned and, eventually, the manufacturer stopped providing parts and service, leaving their sign irreparable and useless. With their new Vantage sign, Tally Ho Liquors can rest assured that they have a high-quality product and reliable support available when needed.
Along with the 5 year parts and on-site labor warranty, Tally Ho Liquors also received a free year of SM Infinity cloudware service. SM Infinity is a comprehensive solution for controlling advertising on outdoor and indoor digital signage from the Internet. Clients are able to easily create and manage sign content independently or receive professionally-designed content. The design team behind SM Infinity is readily available to ensure clients get the most out of their digital sign with personalized content that is custom-tailored to meet the goals of their business.
"We are really excited about our new sign," stated Alpesh Patel, owner of Tally Ho Liquors. "I am not a design expert, so it's great to be able to receive custom content that keeps our sign looking sharp."
Tally Ho Liquors has accomplished their mission to stand out on the busy Wilmington street corner, with their new full-color dynamic message sign being pretty hard to miss.
About KC Sign and Awnings:
KC Sign and Awnings has been providing interior and exterior signage to the Mid-Atlantic Region for over 20 years, and have seen steady growth over that time. Originally in a single 2,000 square foot building, they now operate 3 locations serving the PA, DE, NJ, and MD areas, and manufacture signage at their 25,000 square foot facility in Aston, PA. They offer a wide variety of sign products, including awnings, channel letters, digital printing, electric signs and more. Additionally, they provide a full range of services like permitting, design, installation, project management, and service calls both locally and nationwide.