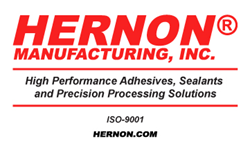 The Autosealer 5300 was designed to seal all pistol and rifle cartridges up to 50 caliber and is capable of variable speed sealing of up to 150 cartridges per minute.
Sanford, Fl (PRWEB) December 30, 2014
HERNON Manufacturing, Inc., a global manufacturer of adhesives sealants and dispensing equipment is pleased to introduce the newest addition to their lines of ammunition sealant dispensing and UV LED curing equipment, the Autosealer 5300.
HERNON's Autosealer 5300 comes complete with a color, touch-screen, human-machine interface (HMI) featuring navigational menus, counters, prompts, statistics, and more. Also available upon request are flexible robotic machine loading or dedicated feed systems for full automation. Its optional vision inspection verifies sealant assembly on cartridge case mouth and primer.
Autosealer 5300 Features/Specifications

150ppm max speed with 59621
380 acp through cal 50BMG
5-15 minute change over
Easy clean and flush dispense system < 5 minutes
SS5300 cannot run blank ammunition
Footprint 60" x 60" x 72" tall
HERNON precision Sureshot 3500 jet transfer
Ultracure 6
Vision inspection – sealant verification optional
Feeder bowl optional
Deliver: 12-18 weeks ARO
Equipped with HERNON's digital Sureshot 3500 dispense jetting system, the Autosealer 5300 provides consistent and precise fluid control without making contact. The system enables the operator to dispense precision micro-shots of HERNON sealants onto each cartridge, primer interface and bullet interface with extreme accuracy in high-volume production industrial environments.
Sureshot 3500 Features

Compact weight and size
Adjustable fluid flow control
Positive shutoff, no seals
Easy cleaning
Cycle rate exceeds 500/minute
Autosealer 5300 can be used with an entire array of HERNON's proven external ammunition sealants along with its the newly developed Ultracure 6 UV LED curing components.
Ultracure 6 – LED UV Curing System Features/Specifications

Ultra Violet Energy (U.V.E.) Cure
365nm High Output LED
24 vdc input power state @ 700mA
2.5/W cm2 maximum output @ 365nm
"The Autosealer 5300 was designed to seal all pistol and rifle cartridges up to 50 caliber and is capable of variable speed sealing of up to 150 cartridges per minute," said Harry Arnon, President of HERNON Manufacturing, Inc. "The system is part of our industry leading line of ammunition sealant dispensing systems and UV LED curing equipment."
Watch the Autosealer 5300 in action:
https://www.youtube.com/watch?v=Vj7WWCY9ZKg&list=UUP99xdzX0aFOPlTG2CeNncA
HERNON is continuously developing cutting edge military technology providing a total solution for customers including adhesives, sealants and the dispensing equipment needed -- when accuracy matters most.
"The Autosealer 5300 is yet another example of how HERNON can meet the specific needs of its customers by combining the best sealants and/or adhesives for every application with the latest in dispensing and curing equipment to meet their unique production challenges," stated Edgardo Rodriguez, Director of Sales and Marketing for HERNON.
"This machine was the end product of working closely with a customer to completely understand their exact production needs, ie. volume, calibers, specific types of sealants needed, budgets, etc. and then custom designing this machine from the ground up accordingly," added Arnon. "Our goal is to be a total solution for our customers to help them maximize performance and save money too."
HERNON Manufacturing, Inc. has been committed to delivering world class adhesive, sealant, and impregnation solutions along with precision dispensing systems for nearly four decades. A long-time member of Central Florida's industrial manufacturing community, HERNON offers strong brands and technologies, all made in the United States, for a diverse range of industries including: Energy/Power Generation, Medical, Electronics, Electrical, LED, Automotive, Appliances, Sporting Goods, Ammunition, Communications, Aerospace, Aviation, High Tech Audio, Defense, Fire Suppression, Transportation, and Marine. HERNON is proud to be an ISO-9001:2008 and ITAR registered company whose products meet or exceed Mil-Specs.
Awarded 2012 ThinkGlobal Exporter of the Year
Nominated one of Florida's Top Companies to Watch in 2012
Received the 2012 William C. Schwartz Industry Innovation Award
Named 2013 State of Florida Small Business Exporter of the Year
Recognized by Orlando Business Journal as a Fast 50 Company
Visit http://www.hernon.com or contact 407-322-4000 for more information.