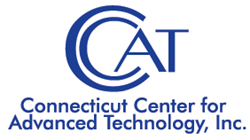 The MORE project enables communities to see how IT advances benefit them without incurring the expense of initial hardware and services.
EAST HARTFORD, Conn. (PRWEB) December 31, 2014
Connecticut Center for Advanced Technology, Inc. (CCAT) today announced an agreement to work in partnership with the Capitol Region Council of Governments (CRCOG) throughout 2015 to demonstrate how the use of cloud technology over the Connecticut Nutmeg Network enhances municipal management.
Five IT capabilities will be demonstrated including web hosting services, video streaming, voice-over-internet protocol telephony, electronic document management, and an HR portal through projects coordinated by CRCOG.
Funded by the Connecticut Office of Policy and Management, the projects are part of the state's Municipal Opportunities for Regional Efficiencies (MORE) Commission's goals to help cities and towns reduce costs and increase efficiencies through regional cooperation.
Nearly $1.3 million has been approved by the state legislature to support the MORE IT demonstration projects. To date, about $283,000 has been allocated to defray equipment costs. Ongoing costs, determined by the level of services provided, will be covered by each town.
Rep. Timothy Larson (D-East Hartford, Manchester, South Windsor), former chairman, House Speaker's Ribbon Commission on MORE said, "I'm excited to see the public private collaboration between these two entities. Improving the use of IT technology is one of the key elements of the MORE Commission's recommendations, which I truly believe will produce cost-effective savings for those municipalities that choose to get involved."
"Given the reality that our towns are far too reliant and limited to property taxes as a revenue source, these IT demonstration projects will provide us a concrete examples of how our towns can come together to deliver services, more efficiently manage municipal government and save dollars, which provides some relief from property taxes while also increasing our economic competitiveness," commented state Rep. Jason Rojas (D-East Hartford, Manchester), former chairman, House Planning and Development Committee. "Regional collaboration can work, it has to work."
As a nonprofit corporation and proven IT resource, CCAT's efficiency and optimization efforts have netted significant savings in capital expenditures, enhanced organizational capacity, and improved outcomes for some of the state's most underserved communities.
"CCAT is pleased to be part of the MORE projects to aid towns in more efficiently managing operations through the use of cloud technology over the Nutmeg Network," stated Elliot Ginsberg, president and CEO, CCAT.
"CRCOG has been working with a wide variety of stakeholders in Connecticut to advance the effective and efficient operations of local government for decades," said Lyle D. Wray, executive director of CRCOG. "Information technology is one area that we believe can make a significant impact on local service delivery and operational costs. We are happy to partner with CCAT to choose the best systems and approaches to leverage IT at the local level and facilitate sharing at the regional and statewide level in Connecticut."
"The MORE projects will further the services we have been providing to CRCOG members and enable communities to see how IT advances benefit them without incurring the expense of initial hardware and services," said Dan Salazar, director, Information Technology, CCAT.
According to Salazar, 18 towns will be participating in the first three demonstration projects. Web hosting/colocation will be deployed in the towns of Bethany, Bloomfield, Columbia, Enfield, Killingly, Marlborough, and New Fairfield. For the demonstration of VOIP, towns include Barkhamsted, Bethel, Hebron, Simsbury, Somers, and Windsor Locks. Video streaming will be launched in Bethany, Coventry, Mansfield, Putnam, Southbury and Suffield.
The IT capabilities to be demonstrated were selected based on a 2013 municipal needs assessment conducted by CRCOG.
ABOUT CCAT
Connecticut Center for Advanced Technology, Inc. (CCAT), a nonprofit economic development organization headquartered in East Hartford, Conn., is a leader and go-to resource for strengthening competitiveness and high-tech business development in the state, region and nation. CCAT focuses on three core areas: technology, efficiencies and workforce development, with expertise in manufacturing technology, IT, education and workforce strategies, and energy solutions. Through the synergy of its experienced teams, advanced technologies and extensive partnerships, CCAT provides manufacturers, educators, government, nonprofits and entrepreneurs with innovative solutions to tackle economic challenges, compete and succeed.
ABOUT CRCOG
Capitol Region Council of Governments (CRCOG) is the largest of Connecticut's nine regional planning organizations. CRCOG is established under the Connecticut General Statutes as a voluntary association of municipal governments serving the City of Hartford and 37 surrounding suburban and rural communities. The CRCOG region is more than 1,046 square miles in size and it houses approximately 974,000 people. CRCOG is dedicated to expanding the concept of voluntary cooperation among its member municipalities as the means to successfully respond to many of the region's pressing governmental and public challenges.