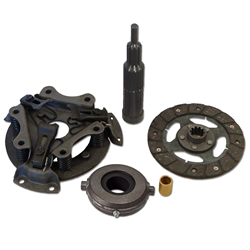 Now, customers can see how the entire clutch works and where it is adjusted. Video is a powerful tool able
Lennon, Michigan (PRWEB) January 02, 2015
The Farmall Cub tractor was built between 1947 and 1979, but is still very popular with tractor collectors. These little Cub tractors are still a hit with small property owners as they are versatile and parts are readily available. Clutch replacement is one of the most commonly needed repairs; however, it is quite difficult for hobbyists.
The clutch used in the Farmall Cub is different in that the clutch throwout bearing is held in place by yokes (forks) attached to the clutch housing. Most other tractors have a setup where the throwout bearing is held in place by sliding over a tube. Because of this unique design, the Farmall Cub requires finer adjustment. Not only is proper alignment of the throwout bearing critical, but the amount of clearance between the bearing and the fingers on the pressure plate is limited so adjustment is tricky. Steiner Tractor Parts offers a complete clutch rebuild kit including pre-adjusted clutch fingers making this repair a bit easier. The added help of this how-to video showing installation of the parts gives collectors even greater confidence to tackle this repair project.
In this latest how-to video, Rachel Gingell, and at times her sister and mother, show viewers the entire process of replacing the clutch, including splitting the tractor and reassembly. Rachel also shares information on how to adjust the clutch for customers who aren't doing a complete replacement as well as some troubleshooting tips.
Steiner Tractor Parts knew that the Farmall Cub Clutch replacement was a necessary repair for many customers. The company also knew that frustrated customers were flooding the technical department with calls about how the clutch worked and how to make adjustments. "Now, customers can see how the entire clutch works and where it is adjusted. Video is a powerful tool to help both our customers and educate our staff," Dan Steiner, President, explains the company's commitment to providing high quality how to videos to the antique tractor community.
The complete "Wrenching with Rachel" video series is available on YouTube or SteinerTractor.com. More videos are planned for the future and the video series is expanding to include more repairs, more troubleshooting tips, and more tractor models.
About Steiner Tractor Parts
Steiner Tractor Parts specializes in restoration quality parts for American made farm tractors. They are an integral part of a larger community committed to preserving our agricultural heritage. Their role is providing obsolete components for Allis Chalmers, Farmall, International, Ford, John Deere and Massey Ferguson among others. Areas of specialty include manifolds, wheels, lights, switches, mufflers, battery boxes, fenders, steering wheels, carburetors, gauges, and more. They have a state of the art website and ship worldwide every day. To see the full product listing and E-Catalog, visit online at http://www.steinertractor.com.
About Rachel Gingell:
Rachel is a certified auctioneer and benefit auction specialist designee. Rachel placed in the 2010 International Junior Auctioneer Championship as the First-Runner Up, becoming the top female auctioneer in her division. A graduate of Missouri Auction School and the Bootcamp for Benefit Auctioneers, Rachel brings both the wisdom of experience and fresh ideas to the auction block. Rachel is an active member of both her State and National Auctioneers Associations and is currently pursuing a business degree. Rachel credits her family for teaching her about tractor and farm equipment repair. Her family's business is J&D Productions and you can find them on the web at http://www.farmtractorrepair.com. View all of Rachel's videos done with Steiner Tractor Parts at http://www.steinertractor.com/wrenching-with-rachel