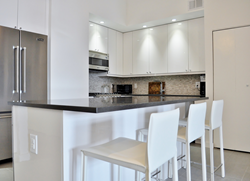 MyHome were tasked to create the illusion of more space in the kitchen without the actual construction of the room changing
New York, NY (PRWEB) January 02, 2015
MyHome, the Manhattan-based renovation company, has completed a kitchen renovation at 529 West 42nd Street in Manhattan. The project was designed by MyHome Remodeling Con-sultant Kristiann Colasacco.
Colasacco and her team were tasked creating the illusion of more space in the kitchen without the actual construction of the room changing. To address this, an existing closet space was in-verted and used for the refrigerator, thus creating a built in refrigeration system. To make up for the lost closet space, a larger island with a drawer storage system was installed. Extra seating was also added around the island.
Tall upper wall white melamine cabinets were installed with silver edge banding, creating fine lines and a open, bright, uniform look. A Haisa Marble backsplash creates a mosaic effect, re-sulting in minimal grout lines and providing beautiful contrast between the backsplash and the darker Caesar stone countertops installed in the space. Porcelain floor tiles that resemble slate were also installed, adding a touch of rustic style to the space, which connects it to the ambiance of the rest of the apartment.
MyHome was founded in 2001 by managing partner Yoel Piotraut. The company, which is based in New York City, has a team of fifteen consultants, designers, and managers. MyHome's New York City showroom is located at 353 West 48th Street in Manhattan. Kristiann Colasacco, the project's lead designer, joined MyHome in 2013 after five years of experience in the industry following graduating with honors from the Fashion Institute of Design & Merchandizing in Los Angeles.