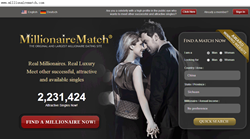 Los Angeles, CA (PRWEB) January 01, 2015
An interesting discussion was started on MillionaireMatch, world's largest millionaire dating site on Dec.27, regarding its members' new year wishes. The first day of the year is like the first page to a 365 blank page book; people have to make it count. Every year, most people wish for the same thing – wealth. But what does someone who already has it all wish for? There are an ample number of millionaire singles on the website, who wanted nothing more than to be healthy and find a soul mate.
Good health is the greatest wealth one can have. Without good health not much else matters and this wish was a front runner on this millionaire matchmaker. A lot of people might wish for material things but that is not what actually happened, most people just wanted to focus on themselves spiritually.
Another interesting wish was that before these singles found a millionaire, they wanted to be the right person themselves. They believed that focusing on being the right person would attract the right person to them. Improving themselves is always a good thing and no wonder it was a part of members' wishes.
Finding the heart's desire is no easy task. In fact it is even more difficult than acquiring material things. People can simply purchase all things material but they cannot buy love no matter how much money they might have and MillionaireMatch.com is after all a dating website so it is natural that a vast majority of the people wished to find the right person for themselves. They wanted to improve their dating life and find true love. True love will bring happiness and subsequently also improve health and other aspects of a single's life. For these people nothing would be better than finding someone to spend the rest of their lives with, no amount of material things could triumph that feeling. The moment when they finally find their true love, everything else seems to just become immaterial and fade away.
Want to know more about information that millionaires are interested in, check here:
http://luxury.millionairematch.com/
About MillionaireMatch.com
MillionaireMatch is an online dating portal that has a subscriber database of 2 million plus. It is a website for people to exclusively find a millionaire. They can definitely meet other eligible and successful singles here who are at the top of their professions. Forbes even awarded it the 'Best of the Web'.