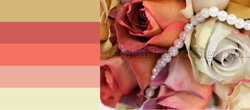 (PRWEB UK) 2 January 2015
London floral designer and top florist Todich Floral Design is looking at exciting colour schemes and wedding theme trends 2015 couples are going to love year round. It's the best of what's winter, spring, summer and fall, and all of the seasonal and holiday decorating theme ideas for 2015. Take a look for yourself and discover your dream wedding made into a reality!
1. Winter wonderland wedding colors. Blue and white bridal bouquets, satin ribbons, soft green laurel leaves, and silver place settings are fabulous base colours to make winter wonderland decorating a fantasy come true on your special day.
2. Christmas winter wonderland decorating ideas. These colours are somewhat bolder, less ethereal than the white, dusky blues and frosty shades of purest winter. Of course, there is a pattern of passionate red, green, and brown or light brown earthy tones. Winter wonderland wedding centrepieces also fit into your Christmas theme: displays can vary from white "frozen" tree branch arrangements, more contemporary glass tiered rose covered installments, or glowing candle light, glass, water and Christmas tree ornaments.
3. Lavish purple wedding color combinations. Purple is a gorgeous, regal colour, suggestive of majesty and elevated importance—all the more fitting for the bride on her special day. Bridesmaid trends 2015 are coming up with lovely contrasts between white weddings gowns and chic, strapless purple and satiny gowns for bridesmaids. Calla lilies, lavender tinted roses, tulips and white roses or profusion of magenta and blue hydrangea also make beautiful contrasts with purple.
4. Classic Pinks and chic bouquets. Pink is flexible, femine and fun! It is always well-balanced with white—think bridesmaid bouquets of white or cream roses and tinted lilies; or white straps, silver shoes, wedding cake design, and tablescapes with splashes of pink and white and silver, making the most intimate wedding decorations. Pink also contrasts well with green in spring, or black for an edgier, more youthful look.
5. Classic colour combos for vintage themed weddings. Many of these colour combinations go just as well with rustic style weddings as vintage themes. You'll find white lace, lavender, pale yellow, grey tones in mens suit fashion, crystal, pearly opalescence and gold and silver embroidery patterns.
6. Unique February wedding ideas. See it in any winter wedding magazine—there is a shift, in February and partly into March, when winter wedding outfits and winter wedding flowers start to get a little more vibrant, brighter—though, in some cases, earthier than January and February in anticipation of spring. Baby blue, light greens and pinks are very popular in well-balanced bouquets, table clothes, reception tables, place cards, and even wedding cakes.
7. Hot colours for summer and spring. It might seem far off, but wedding trends 2015 summer are of the moment—so start planning! Wedding flower colours that say "heat" and "tropical" like papaya, khaki, green palm leaves and white. For tables and bouquets, think birds-of-paradise, anthuriums, orchids, hyacinths and tulips.
8. Vibrant fall decorating theme and colors. As things begin to cool off in preparation for winter, so do the colours and themes for wedding décor trends 2015. Tallow candles, pinecones, fall leaves and mahogany or pine are great for venue and decorative fall themes. Burnished reds and orange and toned down yellow in roses, gerberas and sunflowers evoke prosperity and long lasting happiness.
About Todich Floral Design
Todich Floral Design is a top London florist, specialising in individually tailored floral designs and elegant floral art. Our team of senior and expertly trained florists create something utterly unique, spectacular, and bound to wow clients—whether it's you, your significant other, guests or family. Todich Floral design provides custom flower decorations for weddings—including bridal flowers, bridesmaid bouquets and buttholes—and free consultations for private events, parties, hotel flowers and corporate flower arrangements. We delight in making your memorable occasions absolutely beautiful, down to the last seam and petal.