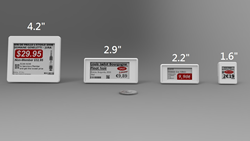 Hsinchu, Taiwan (PRWEB) January 06, 2015
M²Communication Inc. (M2C) is kicking off the New Year with the announcement of its complete product line for the retail electronic shelf labels (ESL) and factory automation sectors.
In 2014, M2C launched the world's most advanced electronic shelf label system based on its proprietary, cellular-inspired communication protocol. Using the Sub-GHz frequency bands, the system has achieved the best all-around performance: ultra-low power consumption, incredibly long battery life, fast and reliable two-way transmission, and ability to support high-resolution graphic e-paper displays. The company's superior technological specifications and cost-effective architecture has been recognized by a mass of retailers. M2C has managed to penetrate the major European ESL market with successful deployments in France.
M2C's complete product line includes 4.2", 2.9", 2.2" and 1.6" fully graphic E-paper price labels that support 3-color E Ink Spectra display. The color displays further add to the dynamic value of M2C's ESL offering. Now, retailers can instantaneously create vivid, colorful promotions to better manage inventory and improve the overall customer experience.
Efficiently supporting color full-graphic electronic shelf labels is no easy task because of the large amount of data to be transferred and processed. Other ESL solutions are less suitable than M2C's to support color because their actual data rates are below 100kbps. Also, 1-way communication protocols often result in lengthy and unreliable data transmission. On the other hand, M2C's innovative, ultra-low power, high-speed, cellular-inspired, interactive wireless communication protocol can reliably update large full-graphic color tags at unprecedented speeds and accuracy.
Their technology preserves a 5-year battery life and the interactive RF technology allows each label to communicate the temperature, battery level, and self-diagnostics to the system.
In another move, M2C has also entered the industrial automation industry with the deployment of solution for factories, warehouses, and enterprise logistics.
"Current paper labels in factories have three main functions: identification, specified instructions and/or location update," explains Dr. Derrick Wei, Founder and CEO of M²Communication. "Our environmentally friendly solution replaces all existing paper labels and automates everything. This greatly elevates operation efficiency hence the profitability of the automated sites."
Team members will be present at Consumer Electronics Show (CES) in Vegas, January 6-9th 2015 and also National Retail Federation's (NRF) 'Retails Big Show' in New York City, January 12-16th 2015. They will also be exhibiting their products at EuroCIS in Dusseldorf Germany, Feb 24-26th 2015.