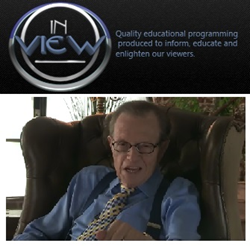 Working on a family trip to Stonewater even though no one in my family knows anyone in Missouri -- it's that beautiful! –San Antonio, August 7, 2014
Table Rock Lake, Missouri (PRWEB) January 05, 2015
Stonewater Cove Resort and Spa is excited to officially announce that In View will be featuring Stonewater Cove in a segment called "Outdoor Living." Hosted by Larry King, the show is slated to air on Fox Business. After just a sneak peak at the final product, it is clear that Stonewater Cove is set to mark its place in the travel industry as a world class wilderness resort that does the job of reconnecting human beings to nature in, of all places, Missouri.
As far as planning the late summer shoot for In View hosted by Larry King, Randi Bond, Marketing Director for Stonewater Cove, says, "We wanted them to have an authentic guest experience, and see for themselves that it's a place designed to almost force you to relax and find inner balance. After just one day, the film director for In View told me that he had the perfect tagline for this place: 'Where Serenity is Born.' That phrase definitely depicts the penetrating calm that is not only unique to this forest and lake, but also to the nature of the resort itself."
As Kendra Mathewson, a writer who recently wrote about Stonewater Cove for Lee's Summit, Tulsa, and West Fort Worth Lifestsyle magazines, stated, "My time at your resort was truly one of my absolute favorites; and this from someone who lived in the British Virgin Islands (at the Caribbean-equivalent of Stonewater Cove)."
When asked what the resort hopes to gain from the In View show, Randi responded, "Having someone as influential as Larry King talk about Stonewater Cove might give this small, American family owned and operated resort the extra marketing pull it needs to be at the top of every travel list in 2015."
Stonewater Cove is an inclusive, Full American Plan resort. Standard rates for each guest's stay include the following:

Luxury, Individually Designed, Lakeside Accommodation
All Gourmet Meals and Snacks
Regular, Non-alcoholic Beverages
Use of Pool, Lounge, Bar, Media Room, Movies, Games, Wii, Hot Tub, Swim Dock, Fishing Gear, Canoes, Kayaks, Hiking Trails, Bocce Ball, and Miniature Golf Course (Non-guided Activities)
Parking, Internet, and Turn-down Service
For guests who wish to add a little more activity or spa therapy to their stay, the following a la carte menu lists activities and Treehouse Spa services that are available to guests at additional charges:

ATV Tours
Zip Line Experience
Water Sports
Boat Rides
Private Boat Slips
Guided Fishing Trips
Custom Massages
Reike Treatments
Foot Treatments
Foot Soaks
Helicopter Tours
Transportation/Car Service
Rated in the "Top 10 Luxury Wilderness Lodges in the US" by Luxury Travel Media, the resort now sits at the top of Missouri's travel list with a recently received "Official Best Wilderness Resort for Missouri – 2014" Award. This award led to another shoot at the resort to film for the Official Best of Missouri show airing on the Discovery Channel, as well as in St. Louis and Kansas City. The resort will announce the airing for both features when those details become available.
With a main lodge, and just 25 lakeside accommodations, Stonewater Cove continues to be rated 5 stars on TripAdvisor, and is one of the few resorts in the US recommended by The Luxury Group. Stonewater Cove is perfect for families, multi-generational families, romantic getaways, reunions, destination weddings, and corporate retreats.
For more information about Stonewater Cove Resort and Spa, or to make a reservation, please visit the website at http://stonewatercove.com or call (800) 792-3956 or (417)858-2563.
About Stonewater Cove
Nestled in the Ozarks of southwest Missouri, in the heart of the Mark Twain National Forest, Stonewater Cove Resort and Spa overlooks the clear, deep waters of Table Rock Lake, known as one of the clearest freshwater lakes in the world. Each of the resort's individually designed rooms features upscale amenities that create an elegant, rustic ambiance. This 500 acre, Midwestern paradise is a member of the prestigious Kiwi Collection, The Luxury Group, Resorts and Lodges Top Properties, The Wedding Salon, and Elite Meetings.
(High resolution images available upon request.)